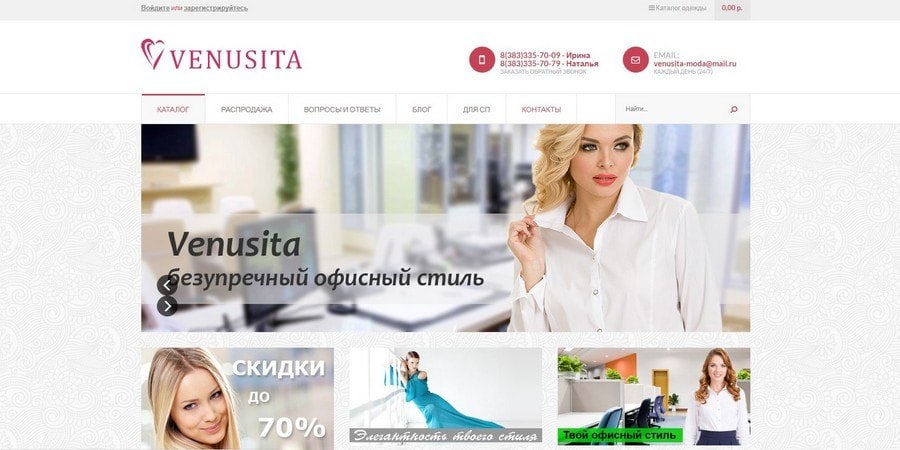 VENUSITA
Russian women's clothing brand VENUSITA
The company is located in the city of Novosibirsk. 
This online store has been operating for a long time and knows the market of Russia and foreign countries well. An important feature of the brand is the highest quality of fabrics and accessories, as well as cozy, delicate and comfortable clothes at low affordable prices. The VENUSITA team makes basic and classic things for every taste, so everyone will find something special for themselves.
Wholesale purchase in VENUSITA
Of course, VENUSITA understands that clothes in the modern world play a significant role in our lives. But quality and style are not always something expensive. Therefore, the website of the online store offers you to save money by making wholesale purchases. The Russian manufacturer of women's clothing invites wholesale trading companies of Russia and neighboring countries to cooperate. Direct communication with the manufacturer helps to develop a special scheme of cooperation and adjust the conditions of subsequent deliveries for the development of partnerships. Our products are always of high quality, and the price is pleasant, which makes our company attractive for cooperation. Wholesale women's clothing will appeal to customers of different styles and different ages. Wholesale products from Venusita - quality guarantee at a very good price!
VENUSITA is a team of professionals. Among the employees are talented designers who keep up with the trends of world fashion and managers who are trying hard to come up with something new and surprise you. You will be able to find:
* delicate skirts and feminine dresses
* classic trousers and airy blouses
* practical and beautiful school uniform
When developing collections, VENUSITA takes into account the basic global fashion trends. The models were created under the impression of the developments of the great classics of fashion and the world's leading companies.
You can order the product on the manufacturer's website, his contacts are provided below.
☎

+8 913 903-85-62

venusita@mail.ru

http://venusita-moda.com