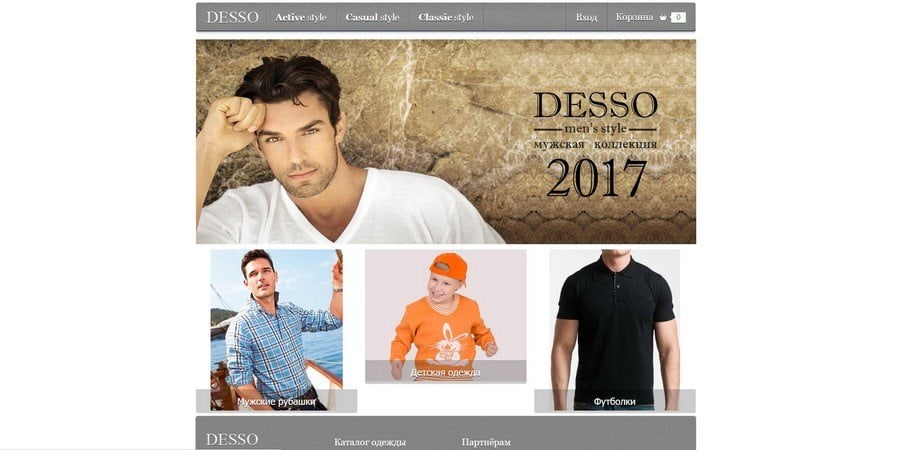 Desso
DESSO - Russian manufacturer of clothing for the whole family
LLC Trading House "Image" is a subsidiary of JSC "Chelyabinsk knitwear" since 2006.
We intend to produce high-quality and inexpensive clothing. The company's products are a win-win option for people who care about their style, for those who want to be satisfied with every detail in the image. The use of equipment from leading manufacturers of different classes (Germany, Italy, Japan) and high-quality raw materials allows you to maintain and improve the quality of finished products. And highly qualified specialists of the company continuously improve the technology and make improvements in the development and production processes. 
Inexpensive clothing wholesale from the manufacturer

The opportunity to buy in bulk on the website of an online store is a chance to save money. This way you will avoid fraud and resellers, besides you will have a direct connection with the manufacturer, which will allow you to have the best conditions for cooperation. The manufacturer offers wholesale customers a wide range of clothes for every taste. We always have relevant and in-demand product models. This allows our customers to get rid of the formation of excess, which increases turnover and profitability of sales.
In the manufacturer's catalog you will find: men's clothing, children's clothing, women's clothing, comfortable knitted knitwear wholesale. 
One of the main tasks of the knitwear factory is the maximum satisfaction of all the needs and wishes of our customers, as well as the willingness to offer the optimal solution to any task. Every customer is important to us, so we improve every day so that you are satisfied with your purchase and our service.  If you have become a customer of DESSO, the doors of fashionable clothes at reasonable prices open to you.
You can buy products on the manufacturer's website, you will find his contacts at the bottom of the page. 
The online store "DESSO" offers a wide selection of products. Thank you so much for choosing DESSO!
☎

+7 351 791-73-51; +7 351 791-74-84

http://desso.su