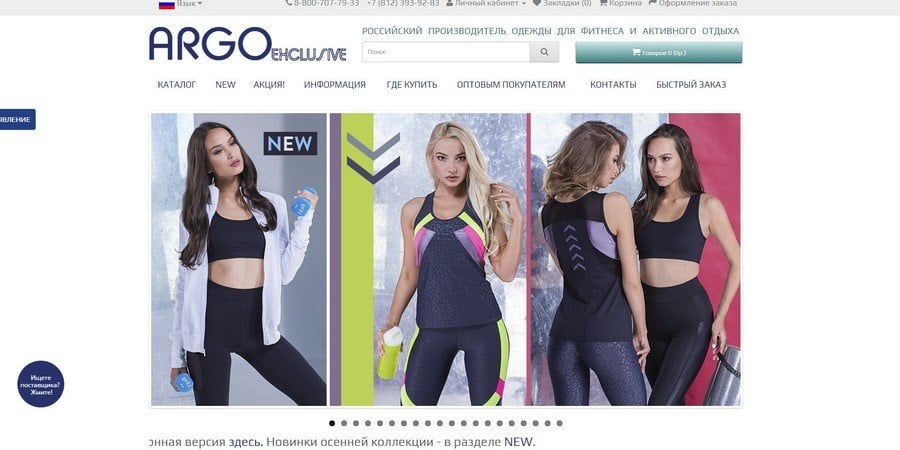 ARGO Exclusive
Clothing wholesale from ARGO Exclusive
ARGO Exclusive is a Russian wholesale manufacturer of clothing for sports and outdoor activities. We are located in the cities of St. Petersburg and Moscow.
A brand that has proven itself well both in Russia and abroad, thanks to stylish, comfortable, practical and multifunctional clothing that meets the highest European standards. The sewing production is equipped with the most modern Japanese and American equipment. The special uniqueness of the clothes from ARGO Exclusive is given by fashionable drawings on clothes that combine originality, style and fashionable color solutions.
Clothing from a domestic manufacturer at an affordable price
It is always profitable to buy wholesale goods from the manufacturer ARGO Exclusive. The ARGO Exclusive company is an opportunity to purchase wholesale lots of goods without huge margins, as well as to have direct communication with the manufacturer, without numerous intermediaries. The company provides the best conditions for cooperation and is looking for reliable partners! The manufacturer offers wholesale customers a wide range of sportswear for every taste.
Even in the simplest things, we try to embody the desire for perfection, and the desire to show the full power of female beauty. The main goal is to create comfortable and at the same time beautiful outerwear. Interesting models, comfortable styles and up-to-date design, something that can always be found in ARGO Exclusive.
You will be able to purchase:
* comfortable tops and hoodies
* cool jackets and beautiful dresses
* sports leggings and trousers
You can get acquainted with the company's catalog in more detail and order the product on the manufacturer's website, its coordinates are listed below.
ARGO Exclusive collections are created from eco-friendly canvases and high-quality accessories supplied by our partners from all over Europe.All canvases are certified by the European Center for Quality Control of Materials.
☎

+7 812 393-92-83; +7 812 380-93-52; +7 812 380-93-82

info@argoexclusive.ru

http://argoexclusive.ru