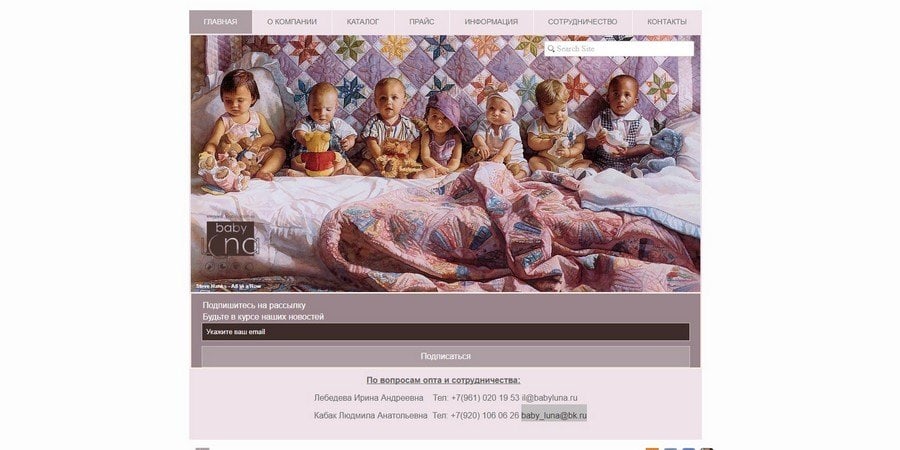 Babyluna
Children's clothing wholesale from the Russian manufacturer
Babyluna is an officially registered Russian manufacturer of wholesale children's clothing. The store is located in the city of Tutaev, Yaroslavl region. 
Babyluna is a Russian brand created in 2012. During this time, the company's clothing has been able to gain incredible popularity throughout Russia. These are not just cute and practical things for children, they are exceptional clothes where there are no unnecessary or optional details. Everything is thought out, everything is sustained. All collections are exclusive. The items of clothing inside the collection are combined with each other. There is an opportunity to pick up a whole seasonal wardrobe for a little prince or princess.
Babyluna - children's clothing at an affordable price

But if the clothes are beautiful, it does not mean at all that they are expensive. We offer you to save money by buying in bulk on our website. Babyluna company is an opportunity to purchase wholesale lots of goods without huge margins, as well as to have direct communication with the manufacturer, without numerous intermediaries. The company provides the best conditions for cooperation and is looking for reliable partners! The manufacturer offers wholesale buyers a wide range of children's clothing.
BabyLuna baby clothes are time-tested quality, almost royal reputation and high trust among happy consumers.
Dressing well since childhood, kids develop a style, a craving for everything artful and beautiful. You can find different collections that our stylists and fashion designers have worked on, so your baby will be dressed "according to the latest fashion."
You can buy products from the manufacturer. His contact information is available below.
Of course, the BabyLuna brand understands that childhood is a very important period in the life of any person, so we try to do everything that depends on us to make the kids look good.
☎

+7 961 020-19-53; +7 920 106-06-26

l@babyluna.ru; baby_luna@bk.ru

http://www.babyluna.ru