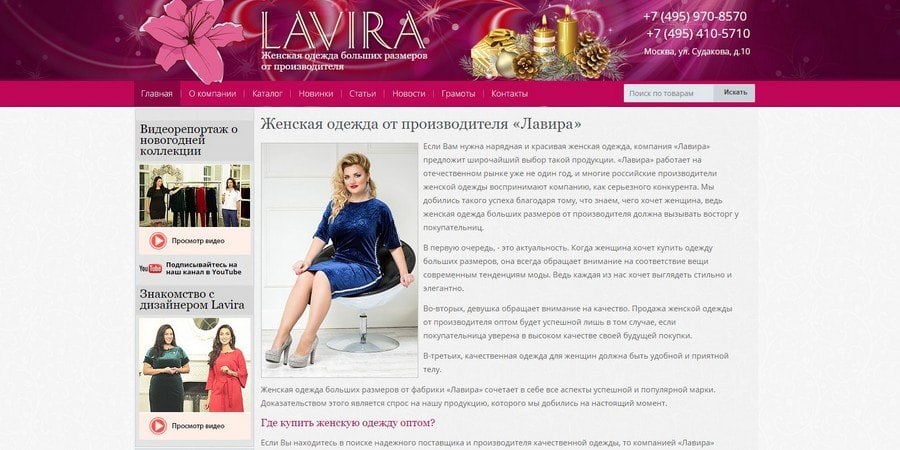 Lavira
Lavira is an officially registered online wholesale women's clothing store. It is located in the capital of Russia – the city of Moscow.
Lavira is a brand that has been operating on the domestic market for more than one year, and many Russian manufacturers of women's clothing perceive the company as a serious competitor. The brand has achieved such success due to the fact that it knows what a woman wants, because women's clothing of large sizes from the manufacturer should delight customers. It is very important for the company that all customers are satisfied with the quality, pricing policy and style.
Lavira — high quality, low prices

All prices set in our online store are retail. We are happy to cooperate with wholesale customers, so we offer a flexible system of discounts. The opportunity to buy in bulk on the website is a chance for you, dear customers, to save money. Because this is the only way you will avoid fraud and resellers, besides, you will have a direct connection with the manufacturer, this will allow you to have the best conditions for cooperation. If you are looking for a reliable supplier and manufacturer of high-quality clothing, then Lavira is actively selling women's clothing in large sizes wholesale, both large and small. We offer a variety of sizes and collections, which are constantly updated with new models. 
The brand of women's clothing of large sizes produces fashionable, high-quality and stylish things. In our assortment you will find:
* delicate dresses, skirts, blouses
* knitted turtlenecks, tunics, jumpers
* classic trousers and vests
Where to buy LAVIRA
You can view the entire product range and purchase the desired item on the official website of the manufacturer. All necessary contacts are placed at the bottom of the page. 
Of course, clothing is very important for a woman and Lavira knows this very well, that's why she makes beautiful and elegant things, of the highest quality and at affordable prices.
☎

+7 495 970-85-70; +7 495 410-57-10

lavira@lavira.ru

http://lavira.ru