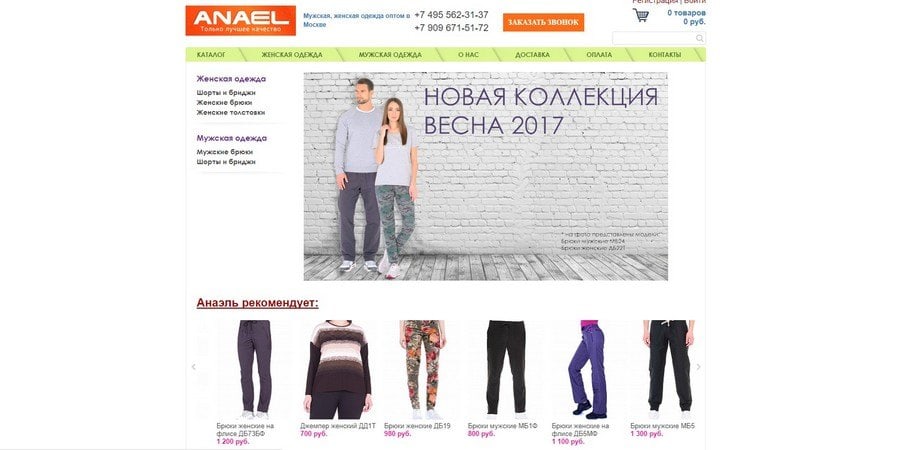 Anael
Wholesale manufacturer of men's and women's clothing Anael
The company is located in the city of Krasnogorsk. 
Anael is a modern manufacturer of high-quality men's and women's clothing with affordable prices. Experience in the domestic market - 17 years. We know not only Russian, but also foreign ones very well. We have supplies from Turkey, Korea and China. The Anael store will help to create a unique style for everyone, while emphasizing individuality and style.
Choosing Anael you get quality uniqueness and low cost

But stylish and beautiful things are not always expensive, so there is a wholesale purchase function on the site. This is a great opportunity to purchase wholesale lots of goods without huge margins, as well as to have direct contact with the manufacturer, without numerous intermediaries. We provide the best conditions for cooperation and are looking for reliable partners! The manufacturer offers wholesale customers a wide range of clothes for every taste.
After all, it is very important for us that every buyer could buy the thing they liked at an affordable price.
We appreciate and respect your desire to save money and not spend all your free time on shopping, because it can be spent with greater benefit. Therefore, we propose to solve this problem very simply! You can order any item of clothing for your wardrobe or present a gift to your loved ones without leaving your home or workplace.
You can place an order on the manufacturer's website, his contacts are listed below.
Anael products have a number of undeniable advantages over imported analogues. Compared with similar European-made products, it has an extremely attractive price. And if we compare the clothes of Asian companies from the adjacent price segment with Anael, then, in most cases, its quality will be much inferior to the clothes produced.
☎

+7 909 671-51-72; +7 919 775-98-92

info@anael-atele.ru

http://anael-atele.ru