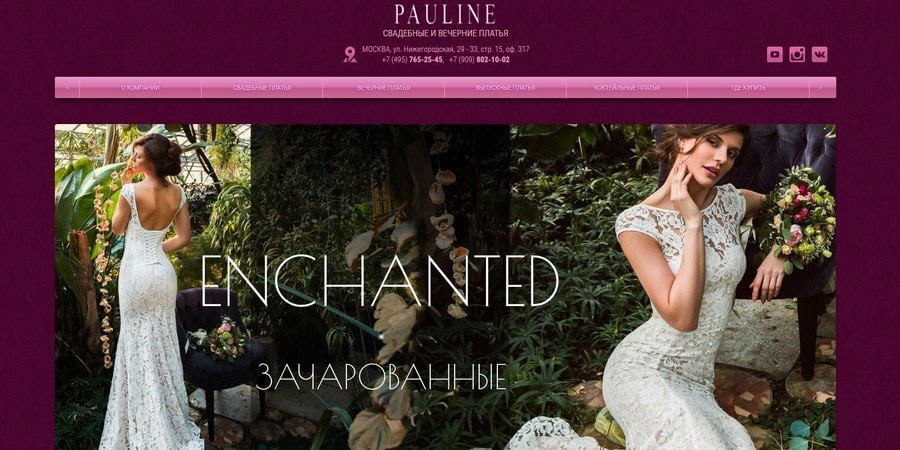 PAULINE
PAULINE is a Russian wholesale manufacturer of wedding and evening dresses. Located in the city of Moscow.
PAULINE is a company that was founded in 2000. This is a brand that has won the hearts of many representatives of the fair sex not only in Russia, but also all over the planet. Each dress has a zest and originality, and everything in order to make you look on top on the most important day in your life. The impeccable quality of each dress is guaranteed, in addition to this uniqueness and modernity.
Elegant dresses at an affordable price
Of course, a wedding or an evening event always requires a lot of money. Therefore, the PAULINE online store offers dresses for sophisticated ladies at the most affordable prices. In addition, there is a function of buying in bulk. It is always profitable to purchase wholesale goods from the manufacturer. PAULINE is an opportunity to purchase wholesale lots of goods without huge margins, as well as to have direct communication with the manufacturer, without numerous intermediaries. PAULINE provides the best conditions for cooperation and is looking for reliable partners!
Only the best fabrics, accessories and jewelry are used in production. Collections are often replenished, so you can find exactly what you like.
The famous fashion house offers you:
* unique wedding and evening dresses
* beautiful evening dresses
* feminine cocktail dresses
Where to buy a dress from Pauline
You can view more models of dresses for various events and order goods on the manufacturer's website. For your convenience, all contacts are collected below.
The extraordinary collections of beautiful wedding and fashionable evening dresses of the PAULINE trademark are the embodiment of original design ideas. Each collection has its own unique charm. PAULINE dresses and accessories have won the hearts of girls from Yuzhno-Sakhalinsk in the east to Kaliningrad in the west of Russia
☎

+7 495 765-25-45

info@pauline.ru

http://pauline.ru