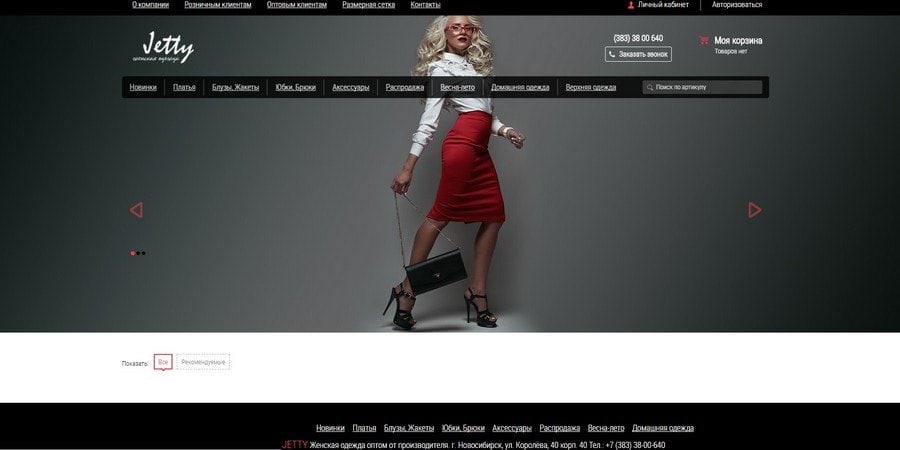 Jetty
Jetty is a Russian online store of women's fashion clothing. The company has been producing clothes since 2011, and during this time has studied a lot of fashion trends that will appeal to every girl. To date, the company has its own production facility in Novosibirsk. The availability of good and professional equipment ensures the production of high-quality products. 
Jetty - affordable fashion

Jetty considers cooperation with any companies, including retail and wholesale sales. The company's products are one of the few presented on the Russian market, optimal in terms of price / quality ratio. This can be confirmed by the annually growing assortment and the trust of our customers. In order to ensure affordability, we constantly optimize costs, reducing the cost of production due to the cost of raw materials and increasing volumes, while maintaining excellent quality.
In the catalog you will find a large selection of stylish things for all occasions. Knitted knitwear, dresses, blouses, jackets, evening dresses, trousers — all this and not only is available in the Jetty online store.
The production has a number of distinctive features. Versatility. Stylish and easy-to-care clothes. Relevance. The production of products is influenced not only by the latest fashion trends, but also by understanding how to implement products in real life.  Affordable fashion. Why do you need to spend money on expensive clothes? The prices confirm this. 
Order clothes from Jetty
In the Jetty online store, you can get acquainted with the product range in more detail and order clothes. You will find the manufacturer's contacts and the website address below.
Jetty is a light elegance and practical romance - something that every girl likes. Jetty sews as for herself and knows that no woman will leave without shopping after fitting. Two or three Jetty brand items will be able to form the basis of any wardrobe. The company is proud of its production, design team and is confident in the quality of products.
☎

+7 953 780-06-40

jettynsk@gmail.com

http://jetty.su