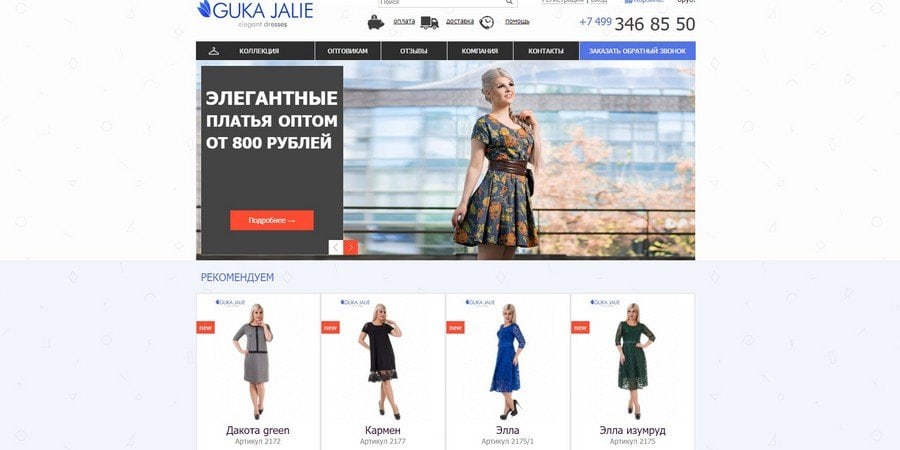 GUKA JALIE
GUKA JALIE –GUKA JALIE) - women's clothing from the manufacturer, which is located in Kyrgyzstan. It has been on the market for more than nine years. During this time, we have studied the latest fashion trends, so we help women become even more beautiful with the help of elegant and stylish clothes.
Women's dresses wholesale at low prices
The products not only correspond to the latest fashion innovations, but are also very comfortable to wear. The company is professionally engaged in the production of dresses in Kyrgyzstan and Russia. The goal: to meet modern trends as much as possible and offer customers knitted and summer dresses wholesale at reasonable affordable prices. 
The GUKA JALIE brand has only its own production. Dresses are made in Kyrgyzstan. The assortment also includes classic variations of elegant dresses for wholesale. Both creative ladies and conservative ones will choose an outfit to their liking.
Tailoring is always of high quality. We value our reputation, therefore we offer fashionable clothes wholesale of exceptionally high quality. Before shipping to customers, all products are additionally checked for compliance with the parameters. GUKA JALIE offers you to buy women's clothing wholesale with comfortable and timely delivery. The idea, development and tailoring of women's clothing for wholesale sale takes place exclusively on the territory of Kyrgyzstan.
Where to buy a Guka Sting
You can get acquainted in more detail with the work of the brand, products and order goods on the website of Guk Zhali. Contacts are available below.
In the store you will find a wide range of clothes from natural materials, with thoughtful silhouettes, modern design and the possibility of easy combination with any clothing. The collections meet the requirements of fashion and quality standards. Clothing will emphasize the advantages of the figure and hide the flaws, complement the image and create a new style. 
☎

+7 499 346-85-50

info@gukajalie.com

http://gukajalie.com