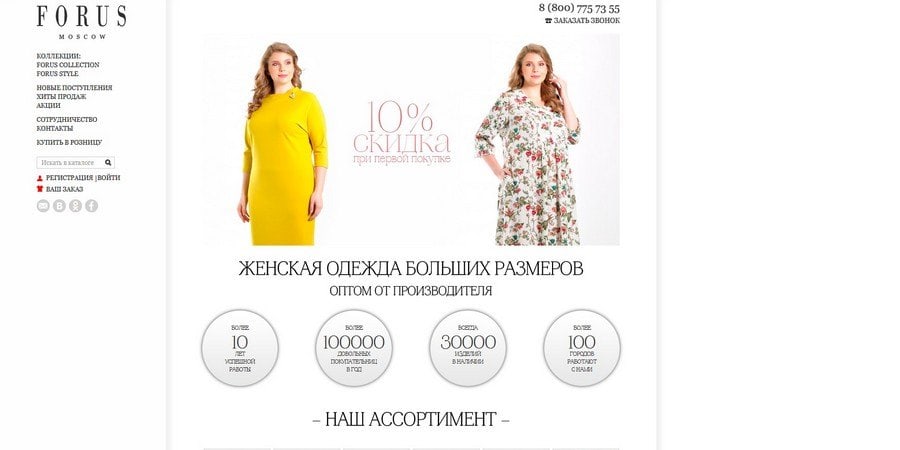 FORUS
FORUS is one of the leaders of mass production of women's clothing in Russia and CIS countries. Located in the city of Moscow.
FORUS is not just an online store, it is a brand created with a soul. The brand's goals have always been the same: not only to sell products in bulk, but also to gain the trust of our partners, to do exclusively their own work, to produce the best product in business, to experiment, to pay attention to details, to be honest with customers, to have a positive impact on the world around us, to look to the future and continue to learn.
The highest quality, democratic pricing policy
FORUS company is always ready for new partners and cooperation, provides all possible conditions for this. Buying in bulk on the website, you have the opportunity not to overpay and have a direct connection with the manufacturer. Openly discussing the terms of cooperation, we find solutions that benefit both sides. Working on the market for more than 15 years, the women's clothing factory has established itself as a reliable supplier, expanded the range of products and formed its own base of wholesale customers.
For a woman, clothing is primarily a way to express her individuality and originality. Therefore, all the clothes of the FORUS brand are unique and consist of fashionable and stylish both basic and more elegant things:
* flying dresses, blouses, romantic skirts
* classic trousers and jackets
* basic turtlenecks, jumpers and coats
Where to buy clothes from FORUS
You can order products from the manufacturer, on the website. All the necessary information is located at the bottom.
The brand does not pursue fanciful fashion trends, we focus on what is always important — relevance. Sewing workshops are equipped with high-tech modern equipment. Fabrics from leading European manufacturers are used for sewing women's clothing. Professional and well-coordinated work of the creative team makes clothes modern, relevant and comfortable.
☎

8 800 775-73-55

contact@forus-m.ru

http://www.forus-m.ru