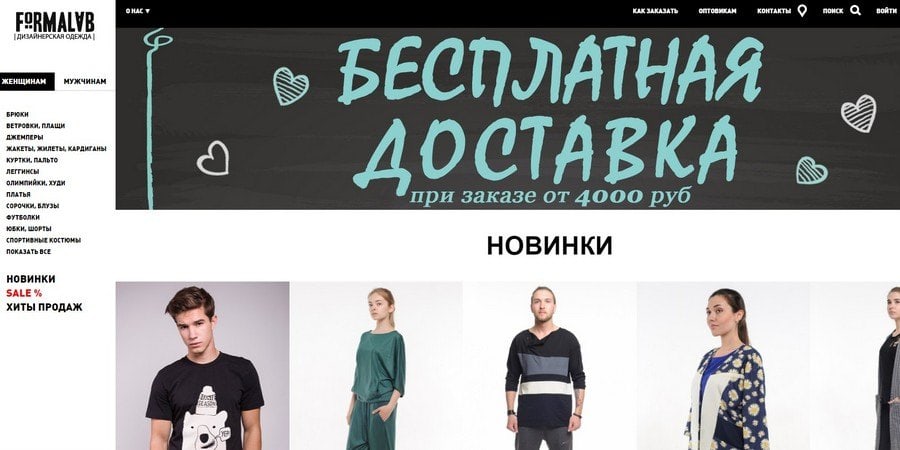 FormaLab
High-quality clothing from the manufacturer Formal Lab

The company "FormaLab" is a Russian online fashion store, which was formed by a group of young creative designers sixteen years ago.
At that time, the originality in clothes and the originality of self-expression captured young people, but the real picture of that time did not give the opportunity for free choice. The creation of the first collections was inspired by the desire to offer the younger generation their vision of the world around them, its diversity and beauty, the transience and variability of modern life.
All "FormaLab" items are manufactured in professional factories, with good equipment under strict control. At the sewing factory, we use only proven high-quality fabrics, so things from our store will be suitable for you for many years. 
Purchase in the Formal Lab
All prices set in the online store are retail. The brand is happy to cooperate with wholesale customers, so we offer a flexible system of discounts. At the moment we are engaged in the delivery of goods to several stores in Moscow, St. Petersburg and Prague. The opportunity to buy in bulk on the website of an online store is a chance for you, dear customers, to save money. Because this is the only way you will avoid fraud and resellers, besides, you will have a direct connection with the manufacturer, this will allow you to have the best conditions for cooperation. 
You can buy products on the official website of the company. The manufacturer's contact information is located below.
Wanting to buy a luxurious designer outfit, buyers do not skimp and lay out a significant amount for some models. Often, even in the largest shopping centers, you can spend money, but never get a decent quality and genuine thing. Our brand "FormaLab" provides original, high-quality, and most importantly affordable products. The Formal Lab brand will help to emphasize your individuality and sense of style. Everything for our customers!
info@formalab.ru; sales@formalab.ru

http://www.forma-lab.ru