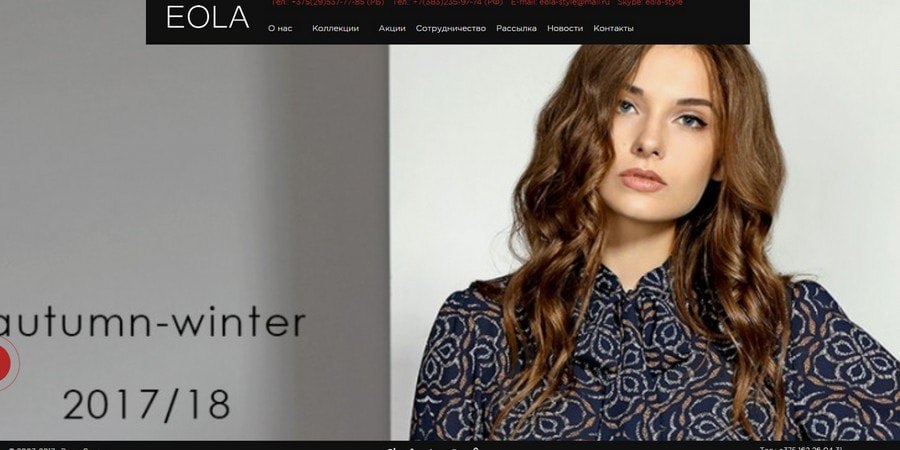 Aeola-Style
The Eola-Style sewing company has been on the market of fashionable women's clothing since 2003.
EOLA is a Belarusian brand of popular women's clothing. The company's collections are distinguished by original European design, high quality materials and a large selection. Lovers of clothes in the style of fashion, casual and classic will definitely choose a suitable option for work and leisure.
Fashionable clothes of high quality
Eola-Style - helps to realize the dream of any woman - to be beautiful, modern, to preserve her individuality and uniqueness. The company cares and respects its clients, appreciates their desire for comfort in the conditions of the modern rhythm of life.
For their collections, the brand's designers use fabrics containing natural materials and durable accessories. So a high-quality new thing will serve you for more than one season.
The brand will help you create a unique image, a casual set or a fascinating evening bow that emphasizes the dignity of every woman. The collection is waiting for you:
Business suits,

office skirts and elegant dresses
K

e

joual style sets and marshmallow blouses

Elegant dresses

and stylish outerwear
Thanks to the wide assortment, you will definitely find the necessary thing. A wide size range helps to choose a thing that "fits" perfectly.
Purchase in EOLA
The company's doors are always open to cooperation with both wholesale and retail customers. You can purchase products at an affordable price, because the company works directly with customers.
You can get acquainted with the assortment of the company in more detail, as well as make an order on the official website of the manufacturer. His contacts are located below on this page.
If you value high quality, affordable prices and a large selection, then EOLA is what you need!
☎

+375 162 26-04-33; +37529 53-777-85

eola-style@mail.ru

http://www.eola-style.com