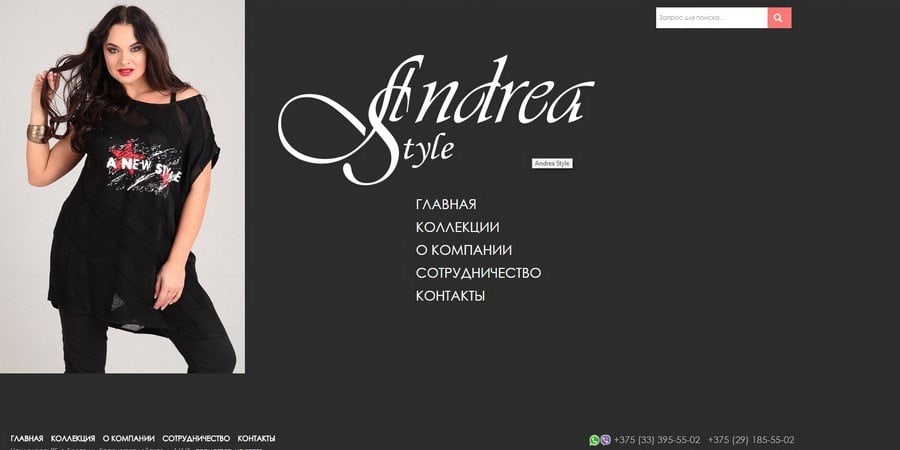 Andrea Style
Belarusian brand Andria style
Andria Style is a Belarusian brand of knitwear.The company's products are popular both in the country itself and far beyond its borders. The companycreates collections of modern clothing for women.
The company "Andria-style" has existed since 1999 – itwas then that the collective of the enterprise began to form, which now rightfullyoccupies a worthy place in the republican fashion industry. Employeesof the company's creative laboratory develop women's clothing for all possibleoccasions.
Why "Andria-style"?
The creative department of the company develops women's clothing forall possible occasions. Brightness, femininity, practicality, convenience andhigh quality are the distinctive features of the products of the Belarusian manufacturer.
On the website you will find:
evening and wedding models
author's holiday dresses and sets
comfortable elegant casual clothes for office and leisure
stylish original coats and jackets.
Only high-quality fabrics and accessories are used in the work.A wide size range allows you to choose the thing that will fit you perfectly.
How do I place an order?
The designers and constructors of the company are real professionalsin their field. The collections are distinguished by high quality tailoring, affordable prices, versatilityof choice. Choosing an outfit for a party? Would you like to have several sets forevery day, suitable for business meetings?
You can buy products on the manufacturer's website. Hiscontact information is located below.
"Andria-style" invites you - modern fashionistas - to choosethe best for yourself!
☎

+375 33 395-55-02; +375 29 185-55-02

director@andreastyle.com

http://andreastyle.com