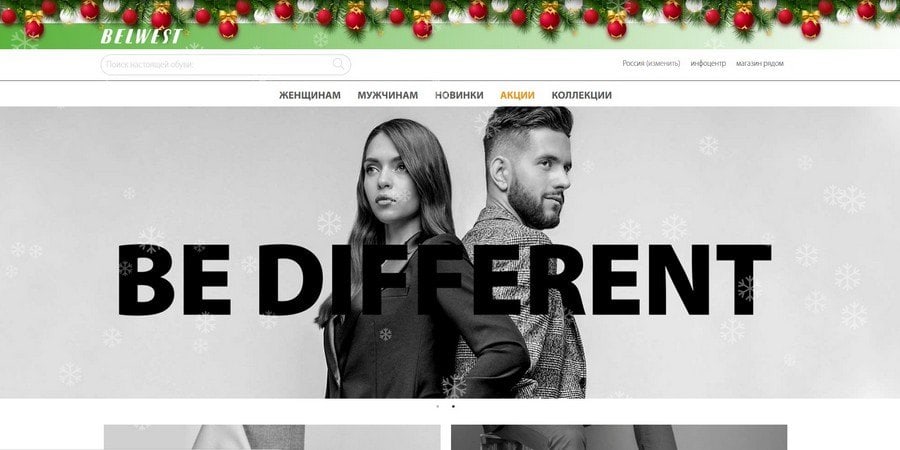 BELWEST
BELWEST is a Belarusian-Russian brand of women's and men's shoes, located in the cities of Minsk and Moscow.
Favorable price,a large selection of shoes
BELWEST - a brand of women's clothing was founded back in 1988,during which time the company has grown decently and knows exactly what customers like.BELWEST today is a full-cycle high-tech enterprise thatcombines: production facilities for the production of women's and men's shoesmade of genuine leather. The company tries to please its customers as best as possible,so it uses only the highest quality materials and accessories fora reasonable price.
With the first released pair, the BELWEST brand has won the heartsof people. The whole path of the factory's development was revolutionary in the shoe industry,because from the very birth the company used advanced worldtechnologies and unique knowledge necessary for the production of comfortable andhigh-quality high-class shoes. On the store's website you can find:
* shoes and sandals
* sports sneakers and running shoes
* boots and half boots
By purchasing BELWEST shoes, you have the opportunityto save your money, because the wholesale purchase function, which is on the website,contributes to this. Wholesale allows not only to buy things cheaper, and withoutintermediaries, but also to adjust the conditions of subsequent deliveries for the developmentof partnerships. BELWEST will provide partners with the opportunity to build theirsuccessful business based on experience and developments in the field of clothing creation.
Where to ordershoes from

BELWEST?

BELWEST is a Belarusian brand that combines the traditionsof shoe craftsmanship and German quality standards. Genuine leather, excellentfittings and high-quality work - this is exactly about the BELWEST company. The collectionsfeature items of various prints and bright colors. Affordable prices andexcellent quality bring the brand great popularity. The BELWEST brandvalues its customers very much and tries to make its products betterfor them every day.

You can purchase products in the manufacturer's online store, his contact informationis available below.
☎

+375 212 49-11-88;+375 29 899-11-88

hotline@belwest.com

https://ru.belwest.com