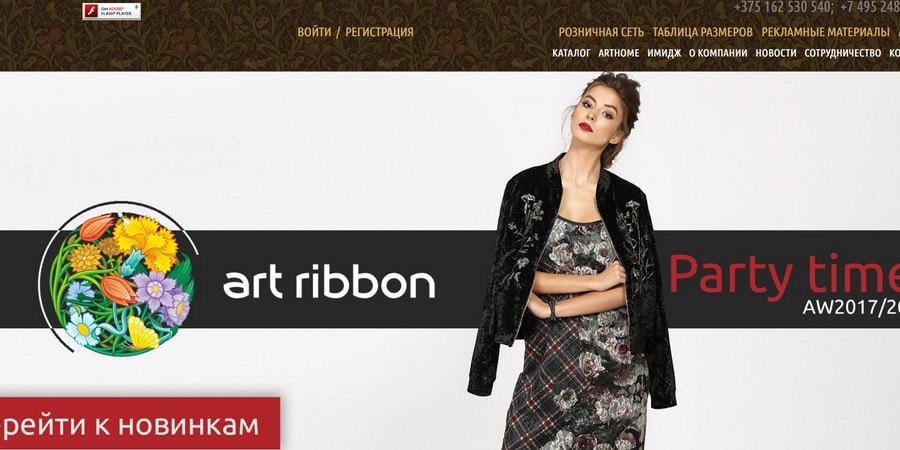 Art Ribbon
Art Ribbon is a Belarusian brand of women's clothing. It is located in the city of Brest, Republic of Belarus and the city of Moscow, Russia.
Art Ribbon is a Belarusian manufacturer of women's clothing, has been making clothes for several years, so it knows the tastes of its customers perfectly. The most important thing for the company is to produce high-quality and stylish things at reasonable and affordable prices. Since the formation of the Art Ribbon company, the management strictly follows the principles of the corporate philosophy – to promote the development of a sense of happiness and fullness of all mankind in all spheres of life - at home, at work, in transport, in public places and to offer solutions on how to make their lives brighter and more comfortable.
Wholesale order in Art Ribbon
By buying in the Art Ribbon store, you can save your money, because there is a wholesale purchase function on the site, which allows you not only to buy things cheaper, but also without intermediaries, as well as adjust the conditions of subsequent deliveries for the development of partnerships. It will provide partners with the opportunity to build their successful business based on experience and developments in the field of clothing creation. Art Ribbon is always ready to cooperate with new partners.

Experienced workers work on the creation of the collection, as well as new technologies and the highest quality fabrics and accessories are used. It takes about 2880 hours to create one collection. Collections from the manufacturer Art Ribbon are based exclusively on new trends and stylish novelties in the fashion world. Thanks to this, you will look "like a needle" in these clothes. In a larger assortment you can find:

delicate blouses
romantic dresses and skirts
warm and comfortable outerwear
You can buy products on the manufacturer's website, his contacts are available below.
Democratic prices, excellent quality and love for their work brings the Art Ribbon trademark a great demand in the market!
☎

+375 162 53-05-40; +375 162 29-81-15

artribbon@artribbon.ru

http://artribbon.ru