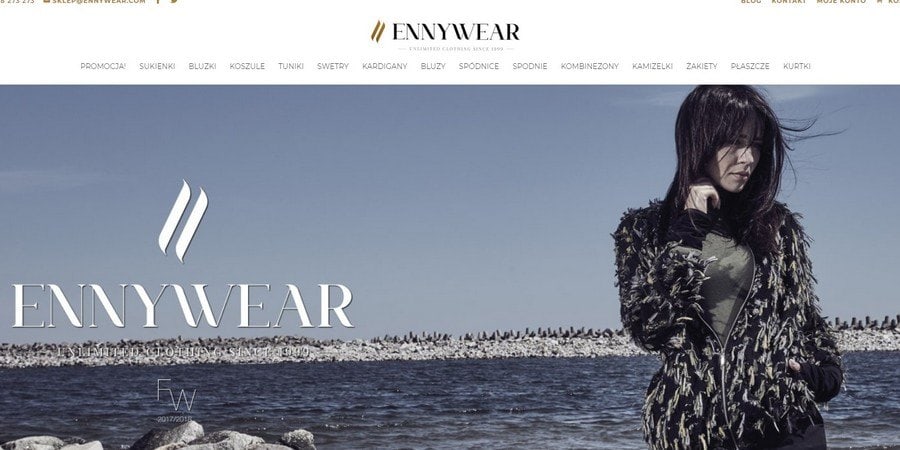 Ennywear
Top women's clothing from the Polish brand

Ennywear

Ennywear is an officially registered brand of fashionablewomen's clothing, which is located in Poland.

Ennywear company offers women's clothing at the latestbrands of very high quality and affordable prices. The brand combinespractical solutions with various trends so that every lady feelsspecial and modern wherever she is: on a walk, a business meeting ora gala dinner.
Favorable prices forany budget
The opportunity to buy in bulk on the website of the Ennywear online store is a chance to savemoney. This way you will avoid fraud and resellers, besides you will havea direct connection with the manufacturer, which will allow you to have the best conditions for cooperation.Ennywear company is glad to partners, therefore it offers wholesale and retailcustomers a wide range of women's clothing for every taste.
All things of the trademark are manufactured in professionalfactories, with good equipment under strict control. The whole rangeEnnywear is made of fine materials and available in many coloroptions so that they can be easily matched to the type of beauty, season oroccasion.
In the store you will find various products:
Shirts and blouses;

Dresses and trousers;

Coats and jackets.
In addition, the Ennywear collections are designed by talenteddesigners taking into account the peculiarities of the female figure.
How to place an orderin

Ennywear

?

You can get acquainted withthe activities of the company, the range of products and place an order onthe official website of the manufacturer. His contact details are provided below.

Ennywear is a brand of Polish clothing for women whoknow what, when and how they want to wear. Every woman strives to embodythe image created by her imagination. The desire for beauty makes you followfashion and regularly spend time choosing the right clothes. With the Ennywear brand,it will not only be easy, but also affordable!
☎

+4 879 827-32-73

SKLEP@ENNYWEAR.COM

https://www.ennywear.com