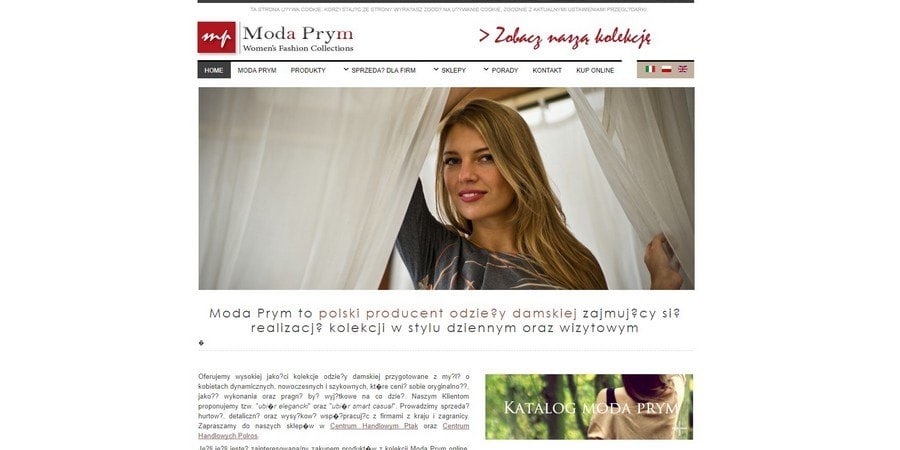 Moda Prym
Moda Prym is an officially registered Polish brand of women's clothing. It is located in the town of Saysko-Kamenna.
Moda Prym is a wholesale manufacturer of women's clothing, has been operating since 1998, so it knows well the preferences of customers not only in Poland, but also in other countries. Specializes in the development and implementation of women's collections for each season. Sells various collections both wholesale and retail. 
Moda Prym - stylish clothes at an affordable price
But of course, in today's world, clothes play a very important role in a woman's life. But Moda Prym believes that high-quality and stylish clothes do not have to be expensive. Therefore, the company offers the function of buying in bulk on the manufacturer's website. Wholesale is a great opportunity to save money, because personal communication with the manufacturer, avoiding numerous resellers and intermediaries. The brand is always happy to cooperate with new partners!
Moda Prym company makes its clothes stylish, functional, high-quality, which corresponds to the latest fashion trends and trends. Creating women's clothing, we take into account not only fashion trends, but also the wishes of our customers. In our large assortment you can find:
* delicate and feminine dresses and skirts
* flying blouses and shirts
* classic trousers and jackets
The brand produces many interesting collections taking into account fashion trends and regional market demands. The goal of the brand is satisfied customers and partners, so the manufacturer tries to do everything possible to realize this goal.
You can get acquainted with the product range and order the goods on the manufacturer's website. His contact details are provided below.
Every woman in clothes from the manufacturer Moda Prym will feel confident and beautiful!The sewing factory uses the latest achievements in the production of clothing, good equipment and proven fabrics to create collections.
☎

+4 860 229-11-31

modaprym@gmail.com

http://www.modaprym.com