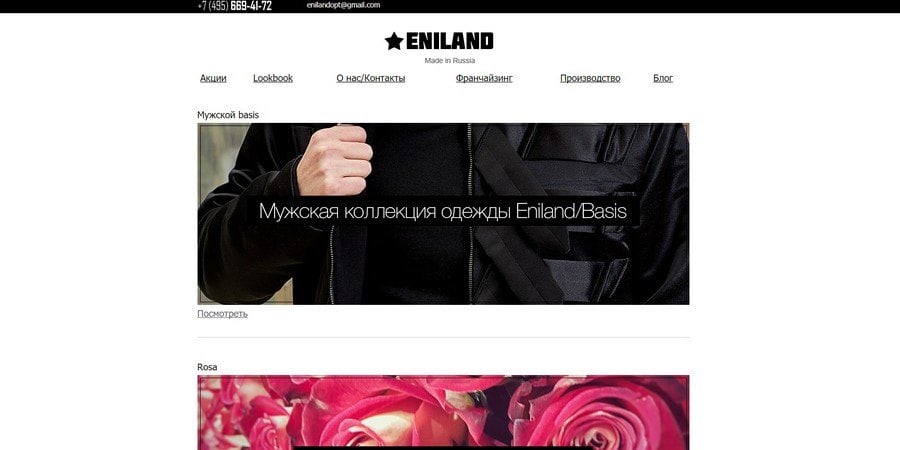 Eniland
Eniland is a Russian officially registered Russian online store. The company "Eniland" has been successfully operating for more than twelve years, founded in 2007. All items from the Eniland brand are manufactured in Russia, at professional production facilities, under strict control. The Eniland brand is clothing for people who want to stand out with their sense of style, courage and always be the center of attention.
Eniland - clothing at an affordable price

During this time, the company has developed more than fifteen collections. The company has its own values and its own view of fashion. Therefore, we put a piece of our soul into each collection, because we understand that it is difficult to find practical, well-made clothes now. Eniland honors the traditions of its people, the company always looks ahead and follows fashion trends. Eniland is always on the cutting edge of fashion and up to date with the latest innovations in the world of clothing. Taking into account the tastes of people, we create as diverse products as possible. 
The catalog consists mainly of men's clothing. Comfortable sweaters, sweatshirts and jackets in everyday wear. A more detailed assortment can be viewed on the manufacturer's website.
Eniland's goal is to create beautiful, stylish, comfortable and affordable clothing. Every day we try to make our collections bring you joy and pleasure. We really love and appreciate our customers, thank you so much for choosing Eniland!

Cooperation and purchase of Eniland
The opportunity to buy in bulk on the website of an online store is a chance to save money. This way you will avoid fraud and resellers, besides you will have a direct connection with the manufacturer, which will allow you to have the best conditions for cooperation. The manufacturer offers wholesale customers a wide range of clothes for every taste. We are always looking forward to new partners and are ready to cooperate. 
You can buy the product in a couple of clicks on the manufacturer's website. The website address and company contacts are located below.

☎

+7 495 669-41-72

enilandopt@gmail.com

http://eniland.com