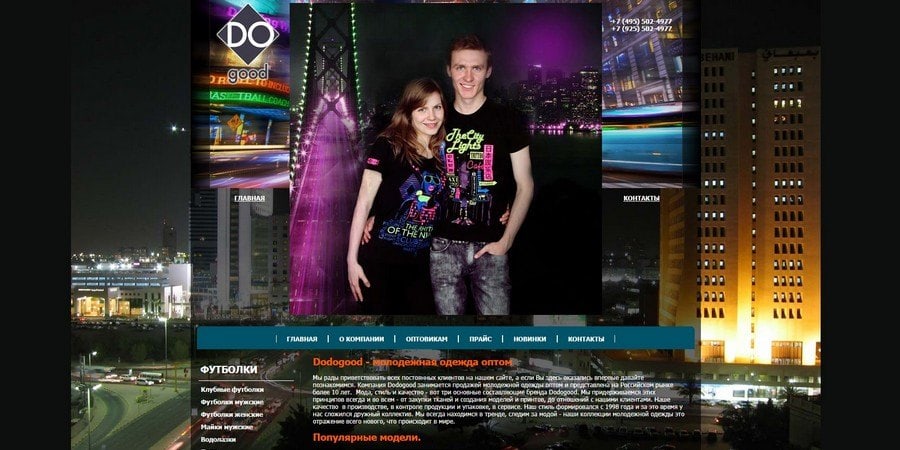 Dodogood
Wholesale youth online clothing store - Dodogood
The company is located in Zelenograd, Russia. The company supplies the highest quality goods to stores in Russia, near and far abroad.
Dodogood company is engaged in the wholesale sale of youth clothing and has been represented on the Russian market for more than 10 years. 
Fashion, style and quality are the three main components of the Russian brand. Each collection is a collection of unique clothing models, both for women and men.

The main concept of Dodogood is the implementation of wholesale deliveries of women's clothing of its own production on the territory of Russia and CIS countries. After all, buying in bulk you can save money very well. Because it allows you to buy things without cheating, avoiding intermediaries, and also have a direct connection with the manufacturer, which gives you a few more points in the piggy bank.
We offer you women's, men's and children's clothing. In the catalog you will find a large selection of T-shirts, T-shirts, hoodies and more. The brand uses only the highest quality materials. High-quality fabrics and accessories will last for many years. The mission of Dodogood company is to open the world of fashion and beauty for absolutely anyone, regardless of age, social status, physique.
Buy clothes DODOGUD
Quality in production, in product control and packaging, in service. The style of the company has been formed since 1998 and during this time a friendly team has formed in the company. Dodogood stylists and fashion designers are working to ensure that the new collections are "in the latest fashion."
You can purchase the desired item in a few clicks on the manufacturer's website. You can find the website address below.
☎

+7 495 502-49-77; +7 925 502-49-77

dodogood@bk.ru

http://dodogood.ru