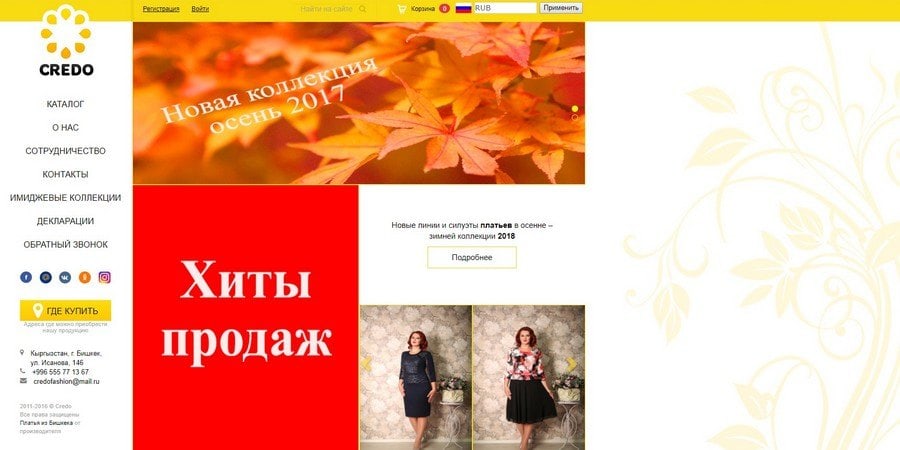 CREDO
CREDO is a brand of wholesale women's clothing from Kyrgyzstan
The store is located in Bishkek.
Women's clothing wholesale from Kyrgyzstan produced by CREDO is always distinguished by the highest quality achieved through the use of modern technologies. The company was founded in 2005 and has established itself well both in Kyrgyzstan, Russia and abroad, thanks to stylish, comfortable, practical and multifunctional clothing that meets the highest European standards. The sewing production is equipped with the most modern equipment.
CREDO - stylish things at affordable prices

The purpose of the manufacturer is to produce high-quality and stylish things at affordable and affordable prices. Buying in bulk, you can not overpay numerous resellers.
Also, personal communication with the production allows you to adjust the terms of cooperation. on the territory of Russia, Kyrgyzstan and CIS countries. This allows you to buy things without cheating, avoiding intermediaries, and also have a direct connection with the manufacturer, which gives you a few more points in the piggy bank.
The manufacturer's assortment includes collections of casual and elegant dresses and other women's clothing. The size range is 40-60 pp. New models are developed taking into account the requirements of the age group, as well as current fashion trends. These are clothes for energetic and active women who want to look stylish and elegant. Dresses, tunics, suits and other clothing for women wholesale - perfectly fits the figure and favorably emphasizes the advantages regardless of size.
Where to buy a Credo
You can get acquainted with the company's activities and the product catalog in more detail on the official website of Credo. You can also order clothes through the manufacturer's website. His contacts are provided below.
☎

+99 655 577-13-67

credofashion@mail.ru

http://www.credofashion.ru