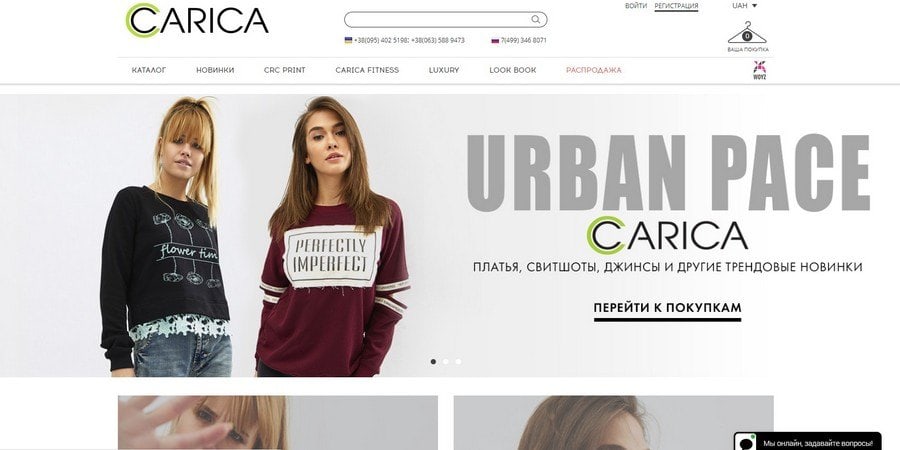 CARICA
Women's clothing wholesale from the CARICA brand
TM CARICA is a Ukrainian manufacturer of women's clothing, which occupies a leading position in the most popular segment of fast fashion. The company has been operating since 2013, and over the past 5 years of continuous successful work, it has become a popular brand not only in Ukraine, but also abroad.
CARICA - quality available to everyone
Inexpensive women's clothing in Ukraine is now available for any lovely young lady. Carica made sure that any representative of the beautiful half could fulfill her dream and diversify her wardrobe. All models are made of natural fabrics, which makes things pleasant to wear, because a fashionable thing should not only be stylish, but also comfortable. So why not treat yourself to the beauty available to any wallet?
Branded products of the brand: casual and evening dresses, elegant suits and skirts, stylish jackets, blouses and much more. The range of products is constantly growing and now has about 50 items. In the production of products, the company uses more than 300 types of fabrics: translucent guipure, natural cambric, soft cotton, dense jacquard, delicate silk and chiffon.
The manufacture and tailoring of clothing is carried out on modern equipment in accordance with the requirements of European standards. CARICA carries out quality control at all stages of production, perfecting every detail.
CARICA is pleased to offer cooperation to both wholesalers and retail buyers. The company sells the goods directly, without colossal markups, which helps to develop an individual scheme of cooperation and adjust subsequent partnerships.
You can view all the collections and catalog, as well as purchase the desired item from the manufacturer. His contacts and all the necessary information are at the bottom of the page.
☎

+38 063 588-94-73; +38 093 170-01-74; +38 095 402-51-98;

INFO@CARICA.UA

https://carica.ua