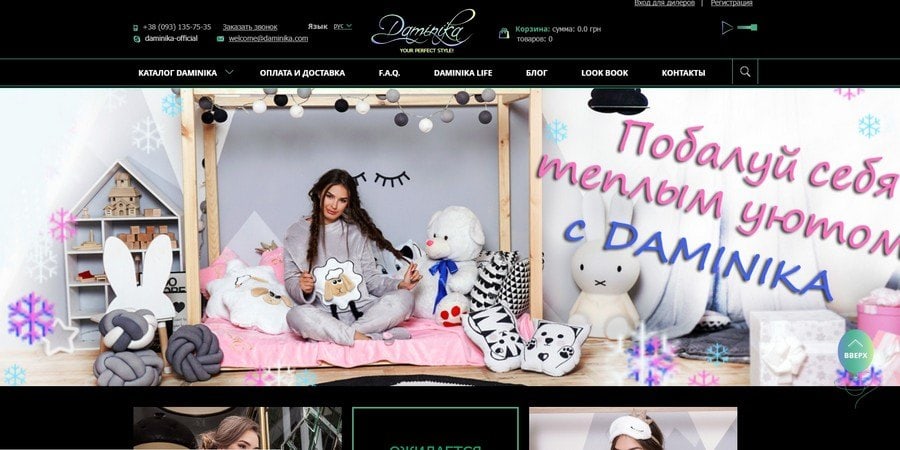 Daminika
Fashion clothing wholesale from the Ukrainian brand Daminika
Online store daminika.ua It is the official website of the Ukrainian manufacturer Daminika.
Daminika is an officially registered brand of stylish women's clothing in Kharkiv, Ukraine. Wholesale online store is one of the most popular leading textile companies among youth women's clothing and stylish exclusive shoes.
Popular manufacturer in Ukraine Daminika
The popularity of the brand is recognized in many countries, thanks to the impeccable skills of Italian designers Dami Rosso and Nika Bruno, high quality and their innovations in the fashion world. We sew clothes only from high-quality Italian and Turkish fabrics, using professional sewing equipment.
Daminika in her style carries elegance, grace, modern glamour, uniqueness and exclusivity of models, thanks to which she has achieved high popularity and a high level of development
For any girl, clothes are a big part of her image. Stylish clothes perfectly convey the individuality and uniqueness of each beauty. It is such clothes that Damenika produces:
Beautiful clothes for every day: elegant office trousers and skirts, light dresses and blouses.
Outerwear for any weather and cozy home clothes.
Bright original shoes and unusual accessories.
Everyone will be able to both assemble their basic wardrobe and replenish it with a bright thing for the exit. All this is possible in the Damenika online store.
How to order a Broom
Damenika offers cooperation to both wholesale and retail customers. Our favorable conditions for wholesale partners allow us to maintain a successful long-term cooperation. You can buy clothes on the manufacturer's website. Below are its coordinates.
Online women's clothing store Daminika is branded items and fashionable shoes and accessories that betray a unique image.

☎

+38 050 632-96-55; +38 093 135-75-35;

daminika-official

http://daminika.com