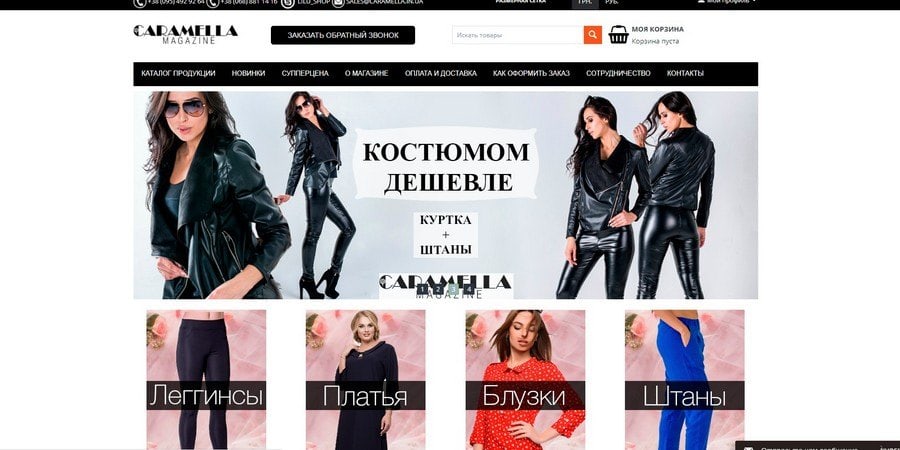 Caramella
Women's clothing wholesale from the manufacturer Caramella
Caramella is an official Ukrainian brand that accepts orders throughout Ukraine.
The Caramella brand is a supplier of fashionable women's clothing. For six years, the company has been trying to please its customers with stylish models, excellent tailoring quality, affordable prices, periodically launching promotions that pamper fashionistas with good discounts and new collections.
Caramella – quality products, huge selection and low prices
Designers are constantly working on the development of new models, taking into account the latest trends in the world. Precise patterns provide an excellent fit. Clothes from Caramella will provide you with a good bright mood. We have in our collection:
Demi-season clothing: light, but warm jacket; stylish trench coat; windbreaker.
Classic skirt, elegant suit and casual T-shirts.
Leggings and leggings. This is the highlight of our online store. All models are of impeccable quality.
The company itself we sew clothes and provide a size range. Therefore, every fashionista will be able to find the perfect outfit for herself in the catalog, which will be able to emphasize her individuality, taste and, of course, the dignity of the figure.
How to buy Caramella clothes?
Caramella is a guarantee of quality, beauty and a good choice. The online store contains a huge selection of relevant, stylish clothes. Flipping through our collections, you will definitely find what suits you perfectly.
We offer cooperation to wholesale buyers. Thanks to the direct communication of the manufacturer with the buyer, it is possible to develop an individual scheme of cooperation beneficial for both parties. Clothes can be bought on the official website of Caramella. For your convenience, you can find the manufacturer's contact information at the bottom of the page.
We hope that the product of our online store caramella.in.ua it will suit your taste!
☎

+38 095 492-92-64; +38 068 881-14-16; +38 099 039-28-27;

sales@caramella.in.ua

http://caramella.in.ua