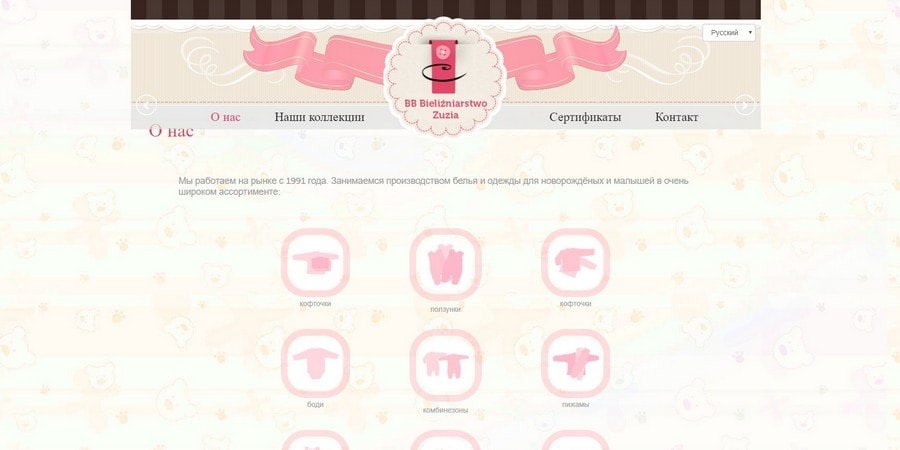 BB BIELIZNLARSTWO
BB BIELIZNLARSTWO is an officially registered brand of stylish clothes for children. The company has been operating on the market since 1991.
The BB BIELIZNLARSTWO trademark is engaged in the production of underwear and clothing for newborns and toddlers in a very wide range. It also produces different types of clothing sets for children for different occasions. 

Since the beginning of its activity, BB BIELIZNLARSTWO has been continuously improving its product range, wanting to satisfy more and more demanding customers.
Stylish clothes wholesale
The opportunity to buy in bulk on the website of the BB BIELIZNLARSTWO online store is a chance to save money. This way you will avoid fraud and resellers, besides you will have a direct connection with the manufacturer, which will allow you to have the best conditions for cooperation. The manufacturer offers wholesale customers a wide range of clothes for every taste. 

The main goal of BB BIELIZNLARSTWO is to create beautiful and comfortable clothes for your child. Here you will find everything for a child: from underwear to overalls. All the company's products are made of the highest quality knitwear, which is confirmed by the certificate "Safe for the child". The applications and decorations used in various types meet very strict EU requirements. 

Purchase in BB BIELIZNLARSTWO
Every parent wants their baby to be special and get all the best. And BB BIELIZNLARSTWO understands this very well. In addition, being parents takes care that the products are not only fashionable, but also comfortable and practical. Therefore, by purchasing goods in the BB BIELIZNLARSTWO online store, you can be sure of the excellent quality and uniqueness of your child's clothes.
The manufacturer's website and contacts are provided below. 
☎

048 331-99-57

biuro@zuzia.org.pl

http://www.zuzia.org.pl/