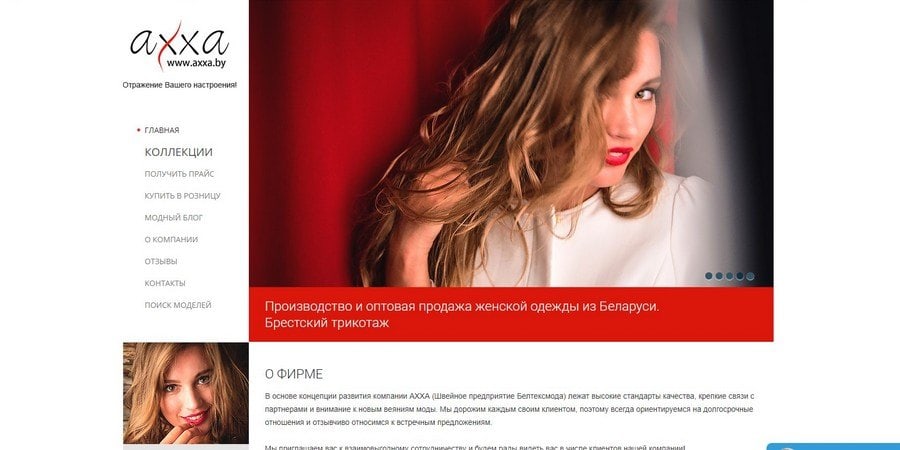 AXXA
Belarusian brand of women's clothing AHHA. The company is locatedin the city of Brest.

AHHA is a manufacturer of women's clothing, which has been operating since 1997, so it has perfectly studied the tastes and preferences of its customers. The most important thing for the company is quality and style. Own high-class sewing production allows you to control the quality of fabrics and accessories.

AHHA - quality clothing at a bargain price
Purchases in the AHHA store are dominated not only by high quality, but also by affordable prices, and you also have the opportunity to save even more by buying in bulk. Why overpay intermediaries if you can buy wholesale from AHHA? Wholesale allows not only to buy things cheaper, and without intermediaries, but also to adjust the conditions of subsequent deliveries for the development of partnerships. AHHA will provide partners with the opportunity to build their successful business based on experience and developments in the field of clothing creation.
Business, classic, romantic styles are the main ones in the collections. AHHApainstakingly works on each new collection: it all starts with trackingthe trends of the season and preparing models, then - the choice of fabric, accessories, preparationthe pattern. All models of dresses, suits, sets sit perfectly on the figure andare very comfortable in the process of wearing. In the store you can find:
* delicate dresses and skirts
* classic costumes 
* beautiful jumpers and blouses
Where to buy AHHA?
You can place an order directly from the manufacturer, his contacts are providedbelow.
The collections feature items of various prints and brightcolors. Affordable prices and unique quality bring the brand greatdemand in the market. The development concept of the AHHA company is based on highquality standards, strong ties with partners and attention to new fashion trends.The manufacturer of women's clothing AHHA tries to do everything so that you receiveonly positive emotions from purchases. You can place an order on the website in just afew clicks.

☎

+375 162 42-52-98; +375 162 41-29-06

market@axxa.by

http://axxa.by