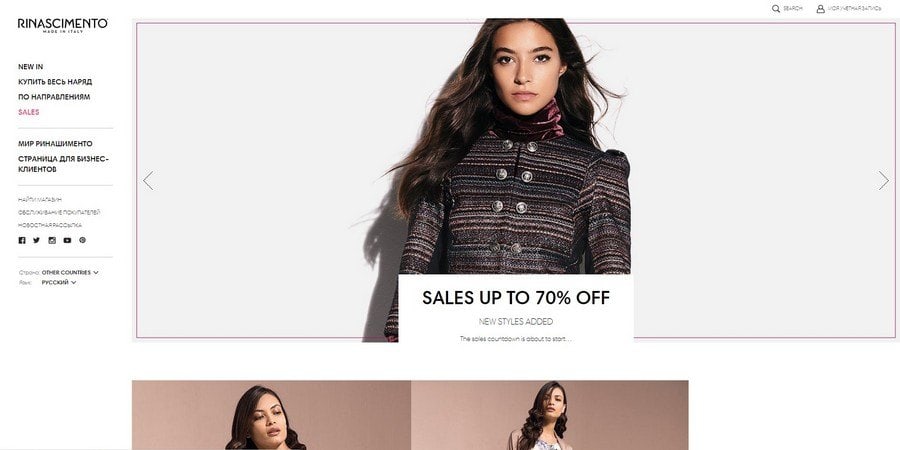 Rinascimento
Rinascemento is a famous Italian brand of fashionable women's clothing. This brand is still little known in Ukraine, but the Teddy concern, to which it belongs, has already proven itself on the positive side thanks to the brands popular with us, namely: Calliope, Terranova, Kitana, Urban Babe, Hacienda Pvblica.
The creator of the Rinascemento brand is Vittorio Tadei, who founded it in the early sixties of the twentieth century. Vittorio was not a fashion designer or a tailor, initially he worked as an ordinary accountant. Some time later, he went to work in a clothing store as the manager of a store owned by his sister. After some time and having gained experience in a new field, Vittorio Tadei decides to create his own company called Teddy S.p.a. Who would have thought that in the future this new company under the management of an accountant would have a significant impact on the development of Italian fashion.
Popular Italian clothing brand Rinascimento
In the middle of 1964, the first products of the company were published on the Italian market. Initially, a high bar was set in the creation of clothing, since it had to be not only high-quality and fashionable, but also of various styles. And besides, to cover the entire audience: men, women, teenagers and children. The task is not easy. But Vittorio successfully coped with it due to the fact that he set up different production lines. And one of the beautiful days Rinascemento became rightfully one of the best among them.
The main feature of Rinascemento is that it is this brand that should react as quickly as possible to events and changes in the fashion world and constantly produces new and relevant collections.
Thanks to the modernization of this line, the company was able to provide instant response and reduce the time of product creation and its delivery to stores as soon as possible. This approach allows you to keep up with modern ideas and trends in the world of Italian fashion.
Rinascemento quickly conquered the Italian clothing market, and over time the whole world learned about it. The number of fans is growing every day.
What is most interesting is that the Rinascemento trademark still surpasses its competitors not only in terms of product quality, but also in terms of the speed of collection updates. More than two hundred new models a week arrive in Rinascemento stores.
Buy Rinascemento clothes in Ukraine
This Italian brand is successfully updating its collections in more than ninety countries around the world. Ukraine is no exception. You can buy the best and most up-to-date collections of the Italian brand Rinascemento here.
The products are manufactured exclusively on the territory of Italy, where they are thoroughly tested at all stages of production in accordance with international standards. Designers take into account all new fashion trends when creating their collections.
Collections of women's clothing are aimed at glamorous girls and women, as the developers believe that a modern representative of the fair sex should be attractive, charming and bright. At the same time, the models cannot be called pretentious, on the contrary, they are simple and elegant in their cut. The image that they allow you to create can be safely called refined, romantic and energetic.
A large selection of Italian clothes
Rinascemento fashion designers know exactly what women need at any age. They capture all desires and needs and embody them in new collections. During the year, fashion designers create eight basic collections of women's clothing and a couple of additional collections.
☎

+39 051 8658800

https://world.rinascimento.com/ru/