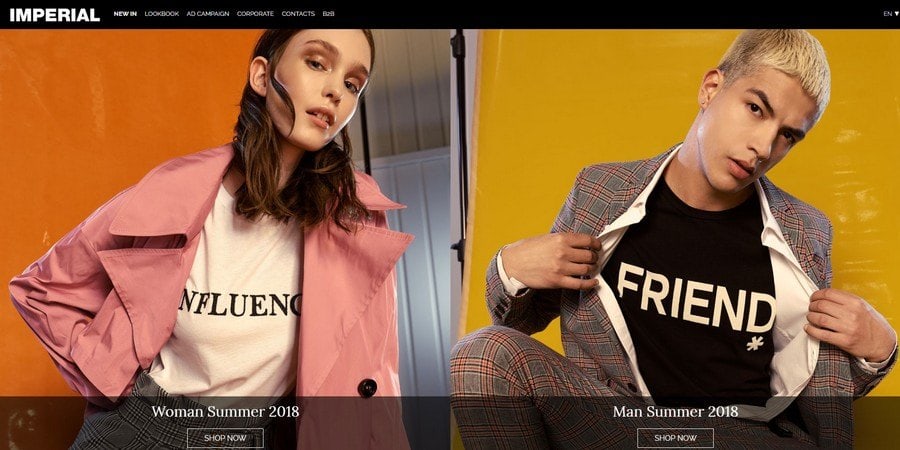 Imperial
Imperial is a famous Italian brand that was founded not long ago, but has already gained popularity among fashionistas from different countries. In 1978, Adriano Aere and Emilia Ghiberti created a new and successful company. In just forty years of its existence, Imperial has become popular not only in its homeland, Italy, but also won the hearts of many girls and women in Europe.
Good and high-quality products can conquer not only your mainland, but also achieve to be recognized and loved across the ocean.
To date, more than eighty monobrand Imperial boutiques have been opened around the globe. Of course, there are much more boutiques and fashionable online stores where their brand's collections are presented. The company does not stop at its success and is constantly growing and expanding its networks. And he does not forget that it is necessary to increase the awareness of his brand. More than two hundred employees work for the benefit of the company and carefully monitor the quality of products.
The Italian brand, with many years of experience and history, is created by some of the best Italian tailors and designers. The main distinguishing feature of Imperial is that the tailoring of products and the selection of fabrics for them are made exclusively on the territory of Italy.
How to explain the popularity of the Imperial brand?
The main customers can be safely called young girls and women who follow the latest innovations and the main trends in the world of Italian fashion. They have a clear idea of what quality the product should have, namely, the highest requirements for naturalness and tailoring. Of course, not in the last place is the uniqueness, originality of models that completely coincide with the requirements of capricious and fickle fashion.
We can safely say that the collections of the Imperial trademark combine notes of classics, which are always relevant, and the practicality of urban, street style. Such eclecticism allows you to create things that are unique in their style. Let's not forget that many details of clothing are decorated with decorative elements that serve to emphasize the exquisite taste of its owner.
Imperial - ideal clothes for business ladies
Among businesswomen, the Imperial trademark is particularly popular. This is due to the fact that many things in the collections are ideal for the appropriate image - a businesswoman. They are ideal due to their laconic, strict lines, a beautiful cut that emphasizes the figure and of course a moderate color scheme.
Imperial designers have not spared their attention to young girls who like to attend not only social events, but are also not indifferent to club life and parties. In fashion collections there are various clothes of bright and unusual clothes that have an original and dissimilar style. Such things are sure to become the highlight of the wardrobe of a young fashionista. Special clothing series are also available for street style fans.
A distinctive feature of the Imperial trademark is that all fabrics used for sewing are natural, environmentally friendly and of the highest quality. Popular materials in the collections are silk, wool, linen and of course cotton.
For the most demanding customers, there are limited premium collections. Models of which are made or supplemented with natural fur and leather of the highest class.
Italian designers sometimes also use artificial fur. This is no less beautiful and high-quality material. Which visually, and by touch, not everyone will be able to distinguish from natural.
☎

+39 0516646072

INFO@IMPERIALFASHION.COM

http://www.imperialfashion.com/