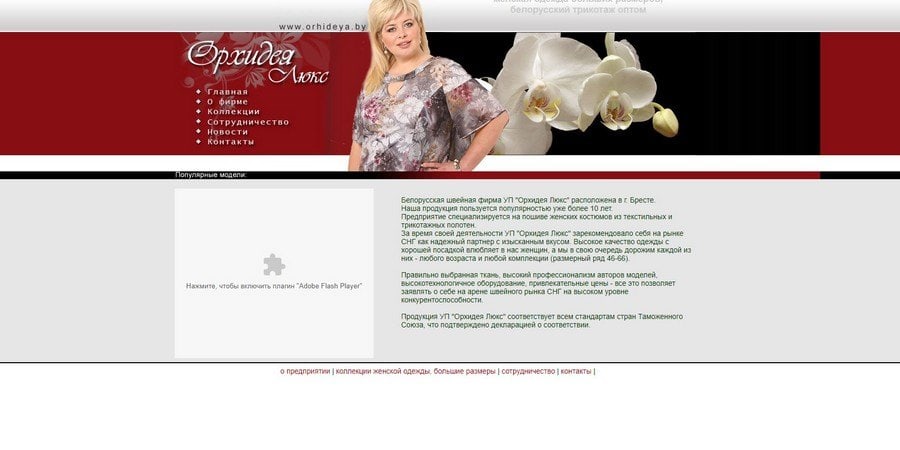 Orchid Suite
Stylish women's clothing from Orchid Lux
The Belarusian sewing company UP "Orchid Lux"is located in Brest. The company started its robot in 2002. The productshave been popular for more than 10 years. The company specializes in tailoringwomen's suits from textile and knitted fabrics.
During its activity, UP "Orchid Lux" has established itself in theCIS market as a reliable partner with exquisite taste. The high quality of materialsand accessories, a wide variety of styles and constant updating of the product makes women fall in lovewith the company.
A wide range of clothes for every budget
For every woman — of anyage and any complexion (size range 46-66) - there is an ideal thing inthe collection. Correctly chosen fabric, high professionalism of the authors of models,high-tech equipment, attractive prices - all this allowsyou to declare yourself in the arena of the CIS sewing market at a high levelof competitiveness.  The products of the UP"Orchid Lux" comply with all the standards of the countries of the Customs Union,which is confirmed by the declaration of conformity.
The textile factory offers cooperation to businesspartners on favorable terms for all parties. Thanks to direct communication withthe supplier, without markups and numerous intermediaries, it is possibleto set affordable prices for wholesale sales. With a wholesale order, yousignificantly reduce the cost of the goods.
How to buy a thing from Orchid Lux
You can buy your favorite things only in bulk. Themanufacturer has no retail sales. You can find more detailed information onthe manufacturer's website. His contacts are listed below.
We draw conclusions: you can look beautiful and stylishregardless of the weather outside the window. The main thing is to have a place to buy beautiful andhigh-quality things. The wholesale online women's clothing store Orchid Lux will be happy to help you with this.
☎

+375-162-53-20-46; +375 297-23-33-65

sales@orhideya.by

http://orhideya.by