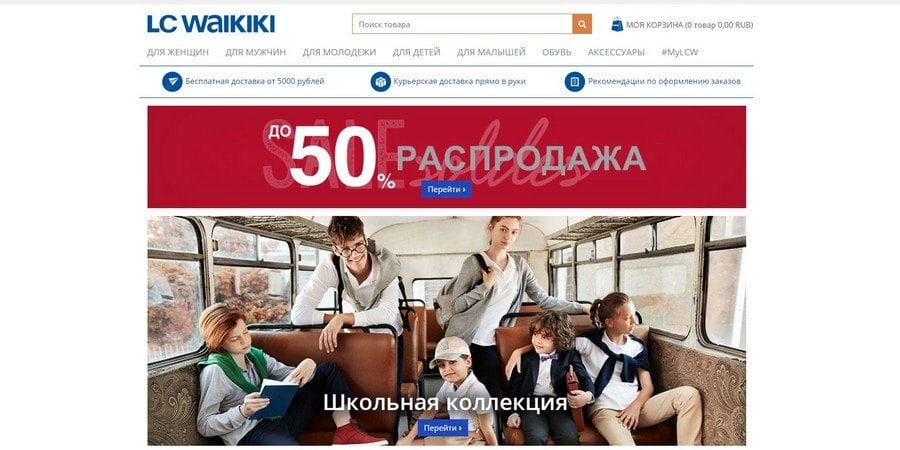 LC Waikiki
Turkish brand LC Waikiki for the whole family
The popular Turkish brand LC Waikiki is an official trademark that has become known in many countries of the world. LC Waikiki's journey began in France in 1988, continuing after 1997 as a Turkish brand under the auspices of LC Waikiki Mağazacılık Hizmetleri Ticaret A.Ş.
Today LC Waikiki trades in 802 stores in 36 countries, with the company's philosophy that "Everyone Deserves to Dress Well" allows people to enjoy affordable fashion through quality products at affordable prices.
Comfortable clothes at an affordable price from LC Waikiki
The company produces stylish clothes in accordance with modern fashion requirements. Designers carefully think through collections, introducing trends in everyday style clothes. The store presents three clothing lines: men's, women's and children's. In the catalog you will find a wide range of outerwear, jeans, sweaters, dresses, shoes, accessories, pajamas and more. In this online store you will find both basic and elegant things.
It is worth adding that the clothes are sewn not only beautiful, but also of high quality. For this purpose, high-quality fabrics and durable accessories are used, as well as professional equipment.
The company offers cooperation to business partners on favorable terms for all parties. Thanks to direct communication with the supplier, without fraud and numerous intermediaries, we can set affordable prices for wholesale sales. With a wholesale order, you significantly reduce the cost of the goods.
Buy clothes from Waikiki
You can get acquainted with LC Waikiki collections in more detail on the official website of the company. The site works in Russian. Manufacturer's contacts are available below.
In this online store you will find both basic and elegant things. Thank you for choosing Waikiki!

☎

+90 212 657-55-55

http://www.lcwaikiki.com