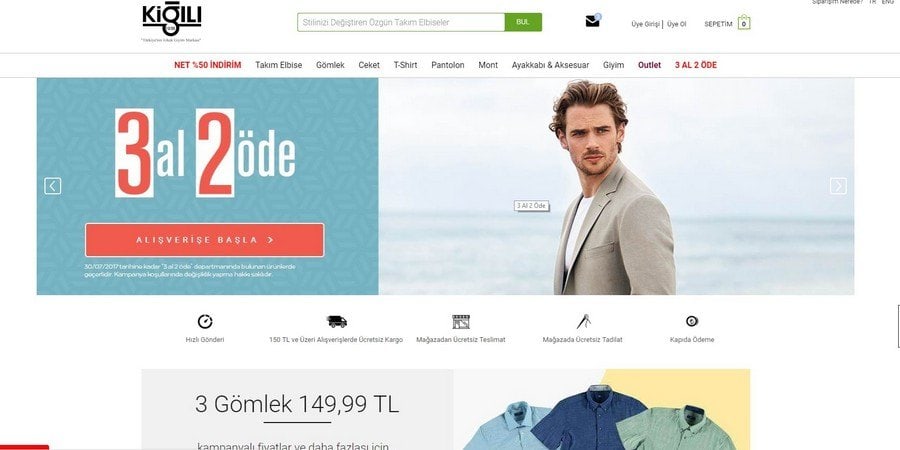 Kiğılı
Men's clothing wholesale from the Turkish manufacturer Kiğılı
Kiğılı company is a leading brand of men's clothing in Turkey, which is preferred by modern and career-oriented men. Today, the Kiğılı trademark is popular not only in Turkey, but also abroad. There are 101 outlets in 21 countries around the world.
Kiğılı — wide selection, affordable prices
Kiğılı is the top choice for urban professionals with an innovative vision that challenges standards and uniformity. Kiğılı plays the role of a pioneer in the fashion industry with its innovative approach to fashion and offers its customers clothes reflecting the latest trends, reinterpreted in accordance with its unique vision.
The company's collections offer clothes for different age categories. All clothes are comfortable to wear and suitable for everyday style. Outerwear, trousers, shirts, sweaters, warm knitwear, turtlenecks, shoes and accessories are not the whole list of what you can buy in the online store. There is also a large selection of suits, both for everyday work in the office, and exquisite tuxedos for various events.
Purchase and cooperation in Kiğılı
Wholesale online store works with customers directly, without huge margins, which allows you to sell goods at an affordable price. Kiğılı offers profitable cooperation for wholesale buyers. At the same time, the manufacturer is always in direct communication. The company tries to approach the issue of cooperation individually, because every business is unique
You can buy products on the manufacturer's website. His contacts are available at the bottom of this article.
Kiğılı is a brand that strives to be the best in the direction of men's fashion.

☎

+90 262 658-13-01; +90 262 658-90-89

info@kigili.com.tr

https://www.kigili.com