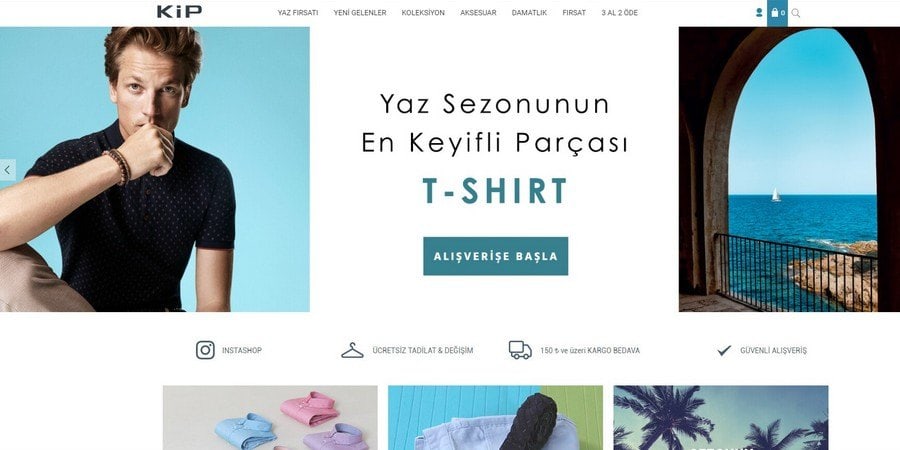 KIP
Men's clothing from the Turkish manufacturer KIP
The KIP brand is a Turkish brand of stylish men's clothing. The company has been operating since 1978 and during this time has taken its place both in the Turkish and international markets.
KIP - modern men's clothing
The brand produces clothes for men made of high-quality materials on modern equipment, thanks to which things are worn for a long time. Also, all clothes comply with international standards.
Clothes perfectly reveal the character, and gives self-confidence. Basically, KIP collections consist of suits, trousers, sweaters, T-shirts, polos, shoes and accessories. You can view the assortment on the official website of KIP.
Men's fashion brand KIP, with a spring-summer collection this season, offers a fashionable and colorful world. In this collection of appearances, shades of blue and beige are likely to find their place quite white, orange, green, cinnamon, according to the spirit of the season and energetic colors such as burgundy. A collection of light-colored sweatpants and jackets to be included in the office stylish T-shirts, patterned and differentiated by the length of the collar shirt in the shape of Lara Sezon in a wide range of products is updated.
Wholesale purchase in KIP
The manufacturer takes care of its customers and makes fashion quite affordable. Thanks to direct communication with the supplier, you have the opportunity to buy things without huge margins, at a reasonable price. The company will also be happy to offer cooperation to both wholesale and retail customers.
You can buy products from KIR on the official website of the supplier. For your convenience, his contact details are available below on this page.
KIP is a Turkish brand that makes men's fashion better!
☎

+90 212 484-04-84

iletisim@kip.com.tr

https://www.kip.com.tr