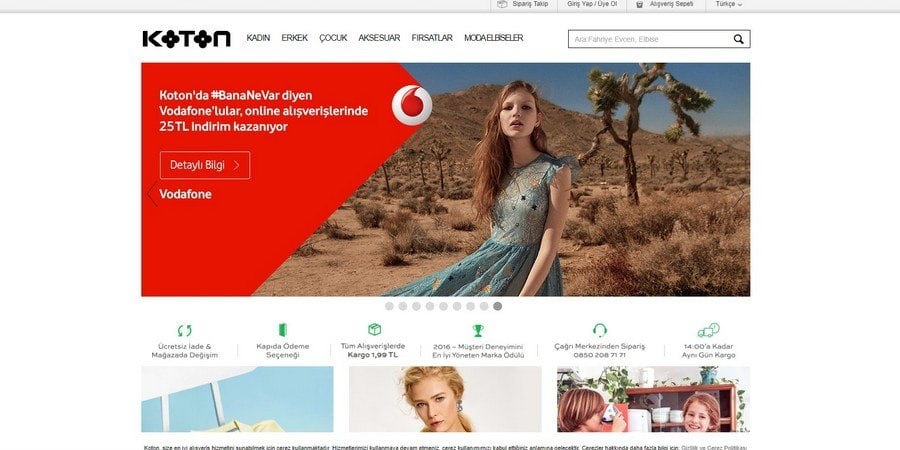 KOTON
Turkish manufacturer KOTON
KOTON is a Turkish brand of stylish clothes for the whole family. The company's online store has been in existence since 2001 and at the moment the site is popular among users, both in Turkey and CIS countries.
KOTON is a dynamically developing Turkish ready-to-wear brand. The company is creative in design and applies innovative technologies in the production of its products.
Wholesale clothes for the whole family
A huge range of products for women, men and children is produced under the Turkish brand KOTON. The assortment of the manufacturer KOTON includes clothing, shoes, accessories. The clothes are distinguished by modernity, style and relevance.
Buying clothes in bulk from COTON, you have an excellent chance to save your money decently, since this is an opportunity to have a direct connection with the manufacturer, as well as to purchase things without colossal markups and high cost. Direct communication with production allows you to develop an individual scheme of cooperation and easily adjust partnerships
The company cares about the quality of finished products and fabrics, so all materials comply with international quality standards. Also, the collections keep up with modern trends, so there are a lot of original clothes waiting for you in the catalog.
Where to buy clothes from COTON
You can learn more about the collections and activities of the KOTON trademark by visiting the manufacturer's website. Also on the website you can order the desired thing. The manufacturer's coordinates and the website address are available just below on this page.
KOTON is a Turkish brand that knows what kind of clothes you prefer and does everything so that you become regular customers.
☎

+90 212 331-33-00

Mim@koton.com

http://www.koton.com