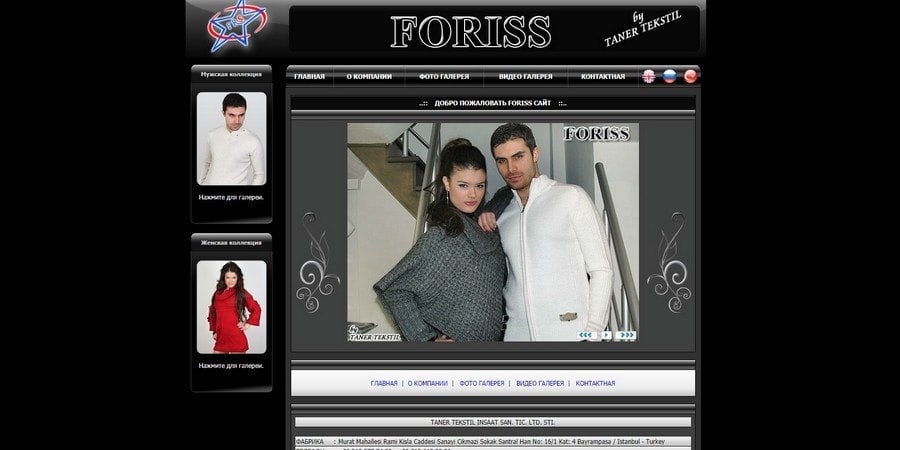 FORISS
TANER TEKSTIL was founded in 1987 by Taner Ozturk in Bayrampasha district in Istanbul, its history begins with a small workshop with mechanical hand machines, and currently operates as a professional business and has activities in the world market.
The company produces a wide range of men's and women's collections under the FORISS trademark, which was registered in 1998. The company has equipment for all types of yarns: small, medium thickness and large thickness, and can print stamps and labels of other companies, provides custom and contract services.

The target areas of Taner Textiles are to improve the quality and increase the range of products, to find new points of sale abroad, to become one of the world's brands with a shift in their own style with the fashion of the knitting sector.
A significant part of exports is carried out to France, Italy, Russia, Ukraine, Norway, Azerbaijan, Kazakhstan, Arab and Balkan countries, all efforts of Taner Textile are aimed at increasing exports.

With 25 years of experience, production capacity of 80,000 units per month in a space with a closed area of 4500 m2, high-quality work, wide and latest machinery technology, production appropriate with sanitation conditions, with timely delivery ensures customer satisfaction, expands customer portfolio, and earns foreign currency for the country.

☎

+90 212 577-74-59; +90 212 613-28-30

info@foriss.com

http://foriss.com