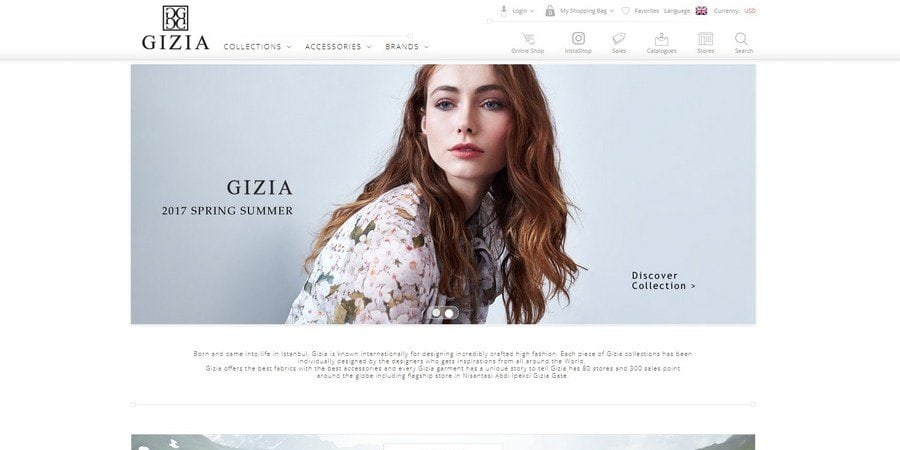 Gizia
Founded in Istanbul in 1986, Gizia has become known all over the world. Each collection was designed by hand by professionals in their field, namely high-class designers.
Today there are 120 Gizia stores in the world on six continents.
Affordable luxury clothing from Gizia
Gizia is a Turkish brand of luxury clothing for women. The company is a pioneer in the concept of affordable luxury in Turkey and around the world. The brand quickly fulfills its major tasks and successfully represents the country in the fashion arena with more than 30 years of experience, reliable infrastructure and an international business approach.
GIZIA collections, made with haute couture quality and defined by the codes "elegant", "feminine" and "sophisticated", refer not only to textiles, but also to accessories that complement the style. In an effort to maintain the enthusiasm of fashion fans, GIZIA produces a limited number of capsule collections to keep the product range modern and innovative.
Among the presented models you will find: blouses, dresses, evening dresses, suits and outerwear. The prices of the goods are set more or less affordable.
Another advantage of the company is the ability to order things in bulk. Gizia online store is interested in cooperation with the owners of clothing stores, for whom quality and style are the main thesis for the formation of their assortment.
Where to buy Gizia
You can get acquainted with the product range in more detail and place an order in the manufacturer's online store, his contacts are provided below.
Every element of the Gizia collections motivates a woman to feel special every day. To do this, the manufacturer inherits hot trends in fashion and integrates them into its collections, adding an attractive pricing policy and uncompromising quality.
☎

+90 212 320-37-37

customer@gizia.com

http://www.gizia.com