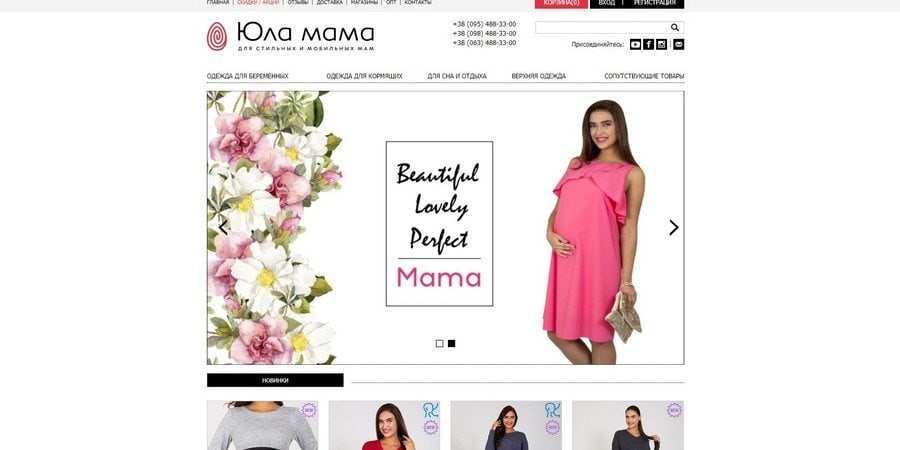 YULA MOM
YULA MAMA is a manufacturer of clothes for pregnant and nursing mothers. Since 2005, the company has started its active activity and is constantly expanding the product range, improving models, taking into account the wishes of customers.
Maternity clothes wholesale from the manufacturer Yula Mama
The combination of comfort and style in clothes for pregnant and nursing women is the result of the work of a team of professional designers. When designing clothes for pregnant and nursing women, special attention is paid to its versatility - most models are successfully worn after childbirth and breastfeeding, while remaining stylish and comfortable. Up-to-date design and natural, high-quality fabrics in clothes for pregnant and nursing women will be appreciated even by the most demanding customers.
Everywhere you need to have time: at home, often also at work, to prepare for a wonderful event, and to find time for yourself and your beloved. Online store Yula Mama - will perfectly cope with this task. Buying online saves not only time, but also your money. In the catalog you can see: tunics, dresses, sundresses, jumpers, sweaters, trousers, pajamas, clothes for home and much more for pregnant and lactating women.
Yula Mama is glad to cooperate with wholesale and retail buyers. Thanks to direct sales from the supplier, there is a great opportunity to develop an individual scheme of cooperation and further partnerships.
How to make a purchase Yula Mom
You can purchase the product and view the full product catalog directly on the manufacturer's website. His contact information is available below.
It is pleasant to note that recently the audience of Yula Mama's clients has significantly expanded with non-pregnant customers. Products can be seen on representatives of the fair sex from still young girls who do not think about motherhood yet, to well-established women whose children have already grown up. The company is very happy about this and is grateful to you for your choice.
☎

+38 098 488-33-00; +38 063 488-33-00

julla-mama@ukr.net

http://ua.julla-mama.com