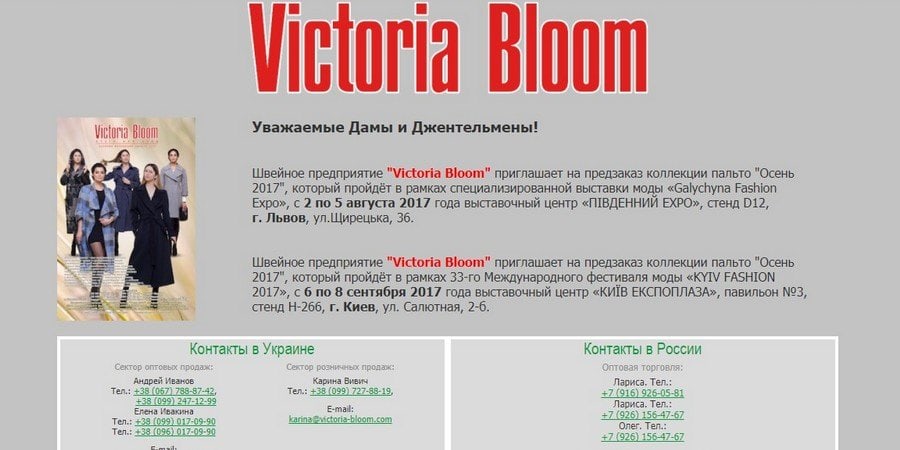 Victoria Bloom
Online store victoria-bloom.com it is the official website of the manufacturer of women's outerwear.
Victoria Bloom is an official, registered brand of stylish, upper, women's clothing, which is located in Ukraine in the city of Kiev.
The Victoria Bloom trademark is engaged in the production of high-quality, modern, outerwear. All products are made of high quality fabrics, and good and beautiful accessories are also used. Victoria Bloom offers stylish, designer, outerwear that will certainly decorate the wardrobe of many women. Victoria Bloom relies on uncompromising quality, trendy styles and a unique pricing policy.
Victoria Bloom outerwear at an affordable price

It is always profitable to buy wholesale goods from the manufacturer Victoria Bloom. The Victoria Bloom company is an opportunity to purchase wholesale lots of goods without huge margins, as well as to have direct communication with the manufacturer, without numerous intermediaries. We provide the best conditions for cooperation and are looking for reliable partners! The manufacturer offers wholesale customers a wide range of outerwear for every taste.
The main goal of Victoria Bloom is to create comfortable and at the same time beautiful outerwear. Interesting models, comfortable styles and up-to-date design, something that can always be found in Victoria Bloom:
* Classic coats
* Comfortable and trendy jackets
* Warm and cozy down jackets, as well as beautiful raincoats.
How to order Victoria Bloom clothes
You can purchase the desired item on the official website of the company. The manufacturer's contacts are listed below.
Every woman in outerwear from the manufacturer Victoria Bloom will feel confident and beautiful! The sewing factory uses the latest achievements in the production of clothing, good equipment and proven fabrics to create collections. Victoria Bloom Company is always glad to meet new customers!
☎

+38 067 788-87-42; +38 099 017-09-90

info@victoria-bloom.com

http://www.victoria-bloom.com