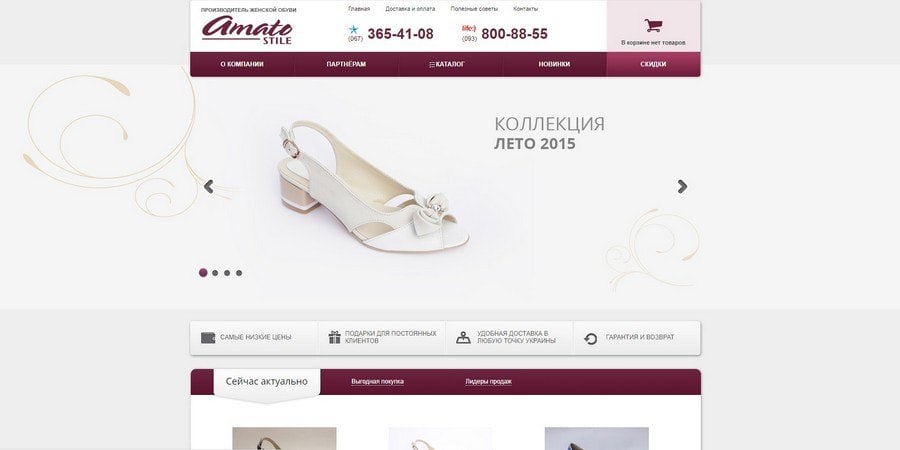 Amato
Stylish shoes wholesale from the Ukrainian manufacturer Amato
The Amato brand is an officially registered trademark in Ukraine. Our company has been operating since 2010 and is located in the city of Dnipro.
Amato is a manufacturer of high-quality shoes at an affordable price
The Amato factory offers high-quality women's shoes for customers. Only leather and other natural materials are used for the production of shoes. The pads that are used for the production of women's shoes are processed so that your feet are comfortable and comfortable. The Amato factory employs highly qualified specialists who have extensive work experience behind them.
We are happy to cooperate with both wholesale and retail customers. Thanks to direct sales from the manufacturer, without numerous resellers and intermediaries, it is possible to develop an individual scheme of cooperation. Leather women's shoes wholesale at low prices is the dream of any retail store selling shoes, so you should not think about whether you need to buy our products.
Stylish shoes are always the key to a successful image. This is the kind of shoes women can find in Amato:
Elegant women's shoes with high and low running.
Boots and half-boots for every day and demi-season boots.
Women's and children's sandals and much more.
Our women's leather-suede shoes correspond to fashion, as every woman and girl wants to be beautiful.
Where to buy Amato?
Dnepropetrovsk shoe factory Amato has won great love and popularity among our wholesale buyers. You can order high-quality women's shoes from the Ukrainian brand Amato on their official website. You can find the manufacturer's contacts just below on this page.
☎

+38 067 365-41-08

http://amato.dp.ua