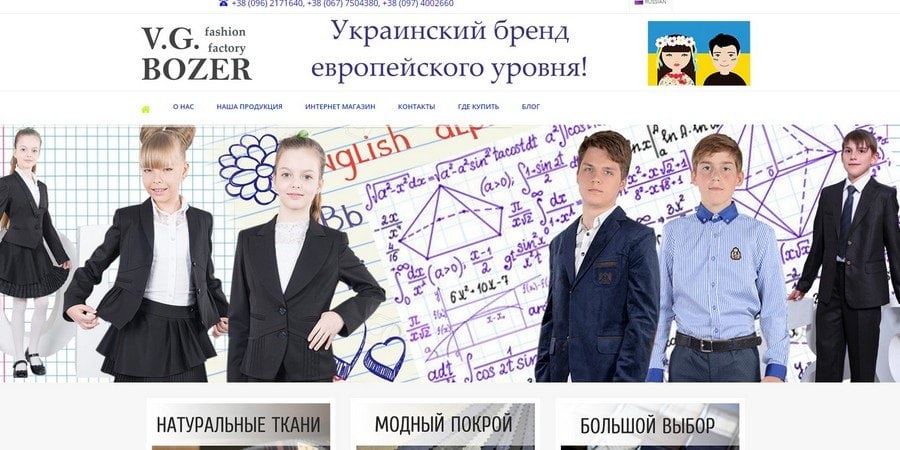 V.G.BOZER
The V.G.BOZER sewing factory in Odessa was founded in 2003, was specialized in sewing school uniforms for children and teenagers. Seven years after its foundation, the factory began to take part in international fashion exhibitions, and a year later, the quality and style of clothing from V.G.BOZER were appreciated at the children's clothing show in Kiev. The company V.G.BOZER from Odessa deservedly won in the nomination "Stylish design". Today the company is one of the leaders in sewing school uniforms for children and teenagers.
V.G.BOZER is a modern sewing factory that uses exclusively high-quality fabrics and accessories. The experienced staff has tremendous experience in the field of sewing fashionable school uniforms, thanks to which, they were able to achieve the perfect combination of high-quality cut, convenience of the uniform and its stylish appearance. The factory regularly updates equipment, monitors novelties among fabrics and accessories, and also updates the range of products offered.

For more than 13 years of history, the company has turned from a modest clothing factory into the country's leader in sewing school uniforms for children and teenagers. The uniform produced by V.G.BOZER companies in Odessa is in demand, and is sold in more than 150 stores in all regions of our country. The use of high-quality raw materials and modern equipment has made it possible to achieve the quality of clothing that is not inferior to the world's leading brands. Today V.G.BOZER is a modern and stylish Ukrainian brand of European level.

☎

+38096 217-16-40; +38 097 400-26-60

http://vgbozer.ua