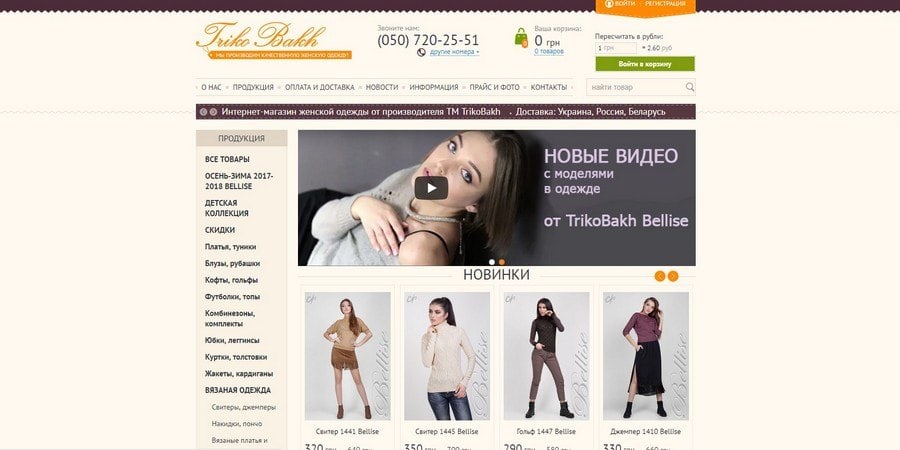 TrikoBakh
Wholesale clothing from the Ukrainian brand TrikoBakh
trikobakh.com - this is the official website of wholesale, women's clothing.
TrikoBakh, is a Ukrainian manufacturer of women's clothing of very high quality, the production of which is located in Ukraine, in the city of Khmelnitsky.
TrikoBakh has been producing high-quality, knitted clothing since 2004. Imported equipment is used in the production: knitting, sewing and embroidery machines "Stoll", "Pegasus", as well as "Tajina". High-quality yarn with the addition of natural (mohair, wool, cotton), artificial and elastic fibers is used as raw materials.
Fashionable clothes at an affordable price
TrikoBakh provides the best conditions for cooperation and is looking for reliable partners. The ability to buy wholesale lots of goods without large margins, and to have direct contact with the manufacturer, without intermediaries - this is what TrikoBakh is ready to offer. It is always profitable to buy wholesale goods in TrikoBakh!
Creating beautiful, high-quality and in-demand clothes is the main task of TrikoBakh. Pleasant prices, up-to-date and modern design — something that is always in great demand among the female audience. TrikoBakh creates exactly such clothes:
* stylish sweaters, cardigans, and jackets
* cozy and comfortable dresses
* beautiful blouses and jumpers
The quality of manufactured clothing is carefully controlled at the production site, starting from the creation of sketches, the development of programs for knitting equipment, knitting products and ending with the packaging of finished products. Cooperation with Turkish, Polish, Ukrainian leading manufacturers of yarn and knitted fabrics allows us to offer high-quality products, thanks to which customers always trust TrikoBakh.
You can buy the product from the manufacturer, his contact details are provided below. Clothes from the manufacturer TrikoBakh, pleases women with good quality, affordable prices and modern design!
☎

+38 067 933-18-36: +38 068 203-20-25

admin@trikobakh.com

http://trikobakh.com