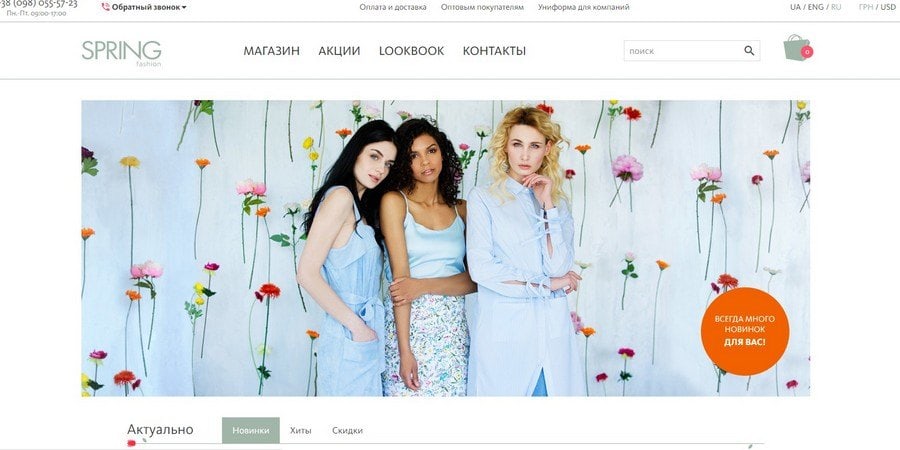 Spring fashion
Wholesale clothing from the Ukrainian brand Spring Fashion
Spring Fashion is a Ukrainian wholesale brand located in Kiev. He has been working since 1998 under the name "SPRING" already known to you.
From the beginning, we declared ourselves as the quality and the right affordable price. We have gained a foothold in these positions and have been in control of them for more than twenty years.
The company started from classics and knitwear, mainly giving the right of choice to a more adult audience.
In 2018, VESNA underwent a rebranding and became the SPRING FASHION chain. The brand has become older and more experienced, but younger and more versatile in terms of assortment.
Spring Fashion-beautiful and high-quality clothes 
Our goal is to produce high-quality and stylish things at affordable and affordable prices. Buying in bulk, you can have a personal connection with the manufacturer and not overpay numerous resellers.
Also, personal communication with the production allows you to adjust the terms of cooperation.
The company constantly produces new products. Every two weeks the range is updated with new models. This allows you to keep your finger on the pulse and please our customers. Our range includes: delicate and airy dresses and skirts, business suits, practical outerwear and sportswear.
Additionally, we present in our stores a wide range of accessories: belts, hats, jewelry, sunglasses, scarves and bags.
 SPRING FASHION online store
VESNA.KIEV.UA - a convenient online store where you can view all models in detail, place an order and pay online.
Also on the site you can see models that are only expected to go on sale, a blog, current promotions. You can buy the thing you like from the manufacturer, his contacts are below on this page. 
☎

+38 098 055-57-23

office@vesna.kiev.ua

http://vesna.kiev.ua