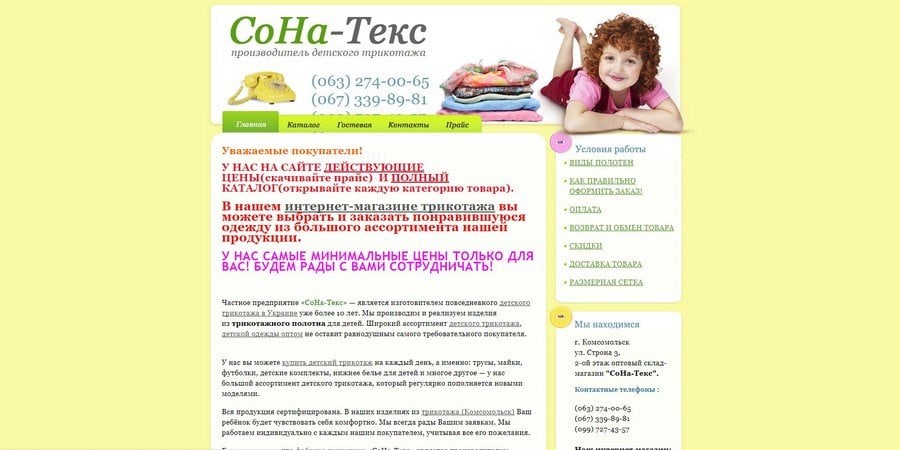 SoNa-Tex
Children's clothing wholesale from the manufacturer SONA-Tex
The private enterprise SoNa-Tex is a manufacturer of casual children's knitwear in Ukraine for more than 10 years. The factory produces and sells knitted fabric products for children. A wide range of children's knitwear, children's clothing wholesale will not leave indifferent even the most demanding buyer.
Large selection - low prices
On the pages of the SONA-Tex website you can buy children's knitwear for every day, namely: underpants, T-shirts, T-shirts, children's sets, underwear for children and much more - a wide range of children's knitwear, which is regularly updated with new models.
All products are certified and meet quality standards. In knitwear products (Komsomolsk) Your child will feel comfortable. The company is always glad to receive your orders, because it works individually with each customer, taking into account all his wishes.
Sewing of children's knitwear at the SONA-Tex enterprise is carried out exclusively with the use of knitted fabrics of the best grade (kulir, interlock, footer, velour wellsoft, etc.), as well as with the use of sewing accessories from European manufacturers.
Since the SoNa-Tex knitwear factory is a direct manufacturer of knitwear, it can offer the lowest prices for its customers.
Buy children's knitwear SoNa-Tex
Children's knitwear from the manufacturer is a profitable purchase of domestic goods without intermediaries with an absolutely transparent pricing policy. You can place an order and buy goods on the official website of the manufacturer, and contact the company directly. All the necessary information is located below.
Many years of experience, attention to detail, quality control of sewing children's knitwear allows SONA-Tex to provide an opportunity to buy knitwear wholesale quickly and inexpensively.

☎

+38 067 339-89-81; +38 063 274-00-65

sonatex2012@yandex.ua

http://sonatex.com.ua