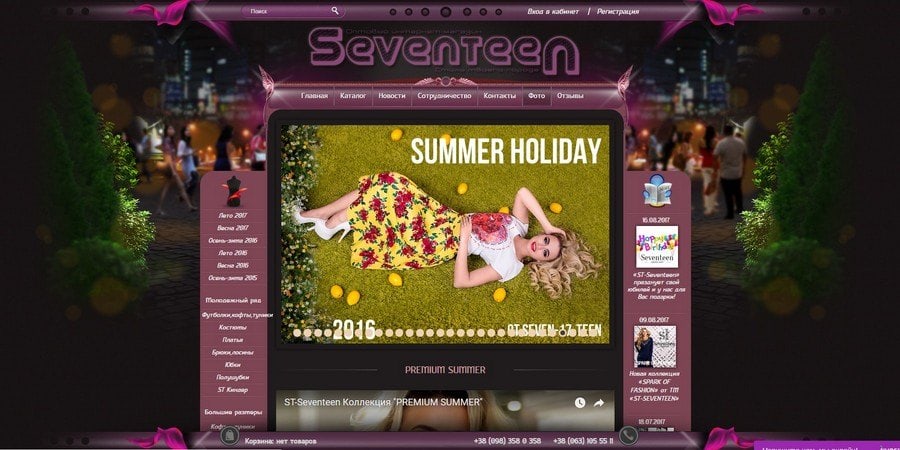 Seventeen
Seventeen - stylish clothes from the manufacturer.
Seventeen fast tailoring of the products you require. It is a fast delivery and customer service.
Seventeen is a Ukrainian brand for the production of stylish clothing for women. The brand has been working in the fashion industry since 2002 and thanks to many years of experience knows the needs of the modern market well.
Seventeen is the style of your city, it's your choice!
Are you lovers of beautiful and stylish clothes the way we love them? If the answer is yes, then we invite you to visit our virtual catalog of fashionable and elegant clothes from the manufacturer. Our catalog presents luxurious outfits for going out and very comfortable and beautiful home wardrobe items designed to turn household chores into the most enjoyable activity. The product range consists of a youth and women's series of large sizes.
The company carefully monitors not only fashion trends, but also the quality of products. All fabrics comply with quality standards, keep their shape even after repeated washing. The materials are pleasant to the touch, which makes wearing things comfortable.
Seventeen is guided by the price-quality ratio, which allows you to sell goods in bulk at an affordable price, without colossal markups. All sales take place directly from the supplier, thanks to which it is possible to develop an individual scheme of cooperation and adjust partnerships.
Where to buy clothes from Seventin
Wholesale online store Seventin is a great opportunity to save your time and money. You can buy the product on the manufacturer's website. His contacts and all the necessary information are provided below.
After visiting Seventin, you will realize that there is no better shopping than virtual. Regardless of the availability of free time, lifestyle and the thickness of the purse, every woman can look perfect.
☎

+38 098 358-03-58; +38 063 105-55-11

info@seventeen.com.ua

http://seventeen.com.ua/