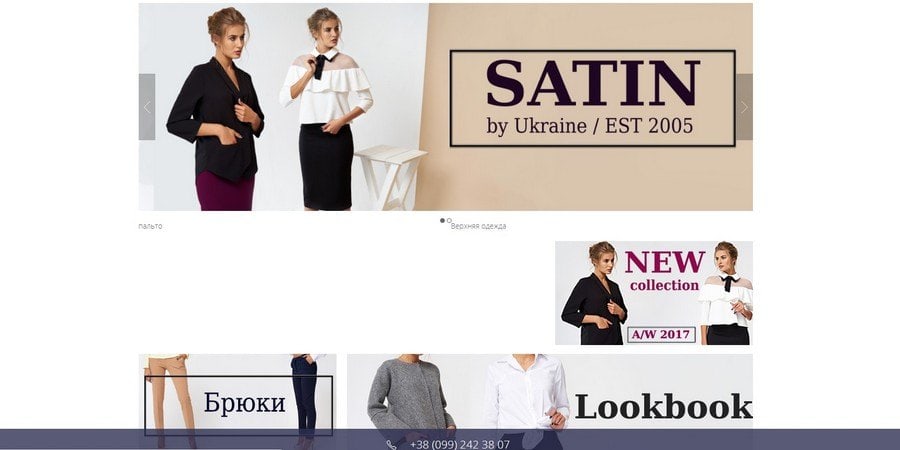 Satin
Women's fashion clothing from the Ukrainian brand SATIN
SATIN is a Ukrainian luxury brand of wholesale women's clothing. It was founded in 2005 and is located in Kharkiv. Since 2010, a monobrand boutique has been opened in Kiev in Ocean Plaza.
Satin is more than just a fashion brand. Our collections reflect the lifestyle of a modern woman in a big city. We strive to create a complete wardrobe for a business lady for every season. Our task is to create high-quality and fashionable clothes at a pleasant price.  This store will help to create a unique style for every woman, while emphasizing her individuality, charm and richness of the inner world.
Wholesale purchases - an opportunity to save
We offer you to save money with Satin, because we have the function of buying in bulk. Thanks to this, you can have a direct connection with the manufacturer and avoid numerous resellers. This will help to develop a special scheme of cooperation and adjust the conditions of subsequent deliveries for the development of partnerships.
We make sure that everyone can buy high-quality and modern clothes at great prices. We offer you:
* romantic and delicate dresses, sundresses and skirts
* classic trousers and jackets
* basic shirts and light blouses
Each model is created in our design studio, relying on hot fashion trends, using the best Italian fabrics.
Satin is a brand that allows a woman to be new and unique in every season, helps to preserve her own style and individuality in the frenzied rhythm of the city.
Where to buy Satin
You can purchase the desired item in a few clicks on the manufacturer's website or place an order by phone. All contacts are located at the bottom.
Thank you for trusting the Ukrainian brand Satin!
☎

+38 099 242-38-07

satin_ok@mail.ru

http://www.satin.ua