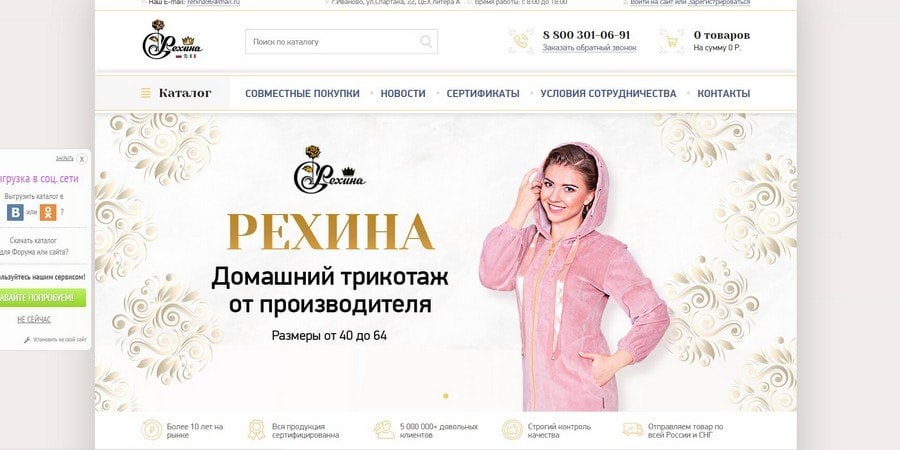 Regina
The company is located in the city of Ivanovo.
Rehina is a company that has been producing clothes for many years, and during this time has studied a lot of fashion trends that will appeal to every girl. The availability of good and professional equipment ensures the production of high-quality products. 
REHINA - manufacturer of unique clothing models

Important advantages are unique, feminine and high-quality things at affordable and affordable prices. You will be able to find:
* romantic skirts and luxurious dresses
* basic turtlenecks and stylish blouses
* classic costumes
The company offers women's and men's clothing for home and leisure; children's assortment is optional. 
Choosing Rehina you get not only quality and uniqueness, but also low cost. After all, it is very important for the brand that every customer can buy the thing they like at an affordable price. The company appreciates and respects your desire to save money and not spend all your free time on shopping, because it can be spent with greater benefit. Therefore, it offers to solve this problem very simply! You can order any item of clothing for your wardrobe or present a gift to your loved ones without leaving your home or workplace.
Wholesale purchase in Regina
In the Rehina online store, it is possible to buy wholesale women's clothing from the manufacturer itself. Clothes from this manufacturer were highly appreciated by hundreds of wholesale customers not only throughout Russia and abroad. But the brand is always happy to cooperate not only with wholesale, but also with retail customers. The ability to buy in bulk on the website of an online store is always more profitable, because this way you can not only save money, but also avoid fraud and resellers. In addition, you will have a direct connection with the manufacturer, which will allow you to have the best conditions for cooperation.
You can order the product on the manufacturer's website, whose contacts are provided below.
☎

+8 800 301-06-91

rehina96@mail.ru

http://rehinatextile.com