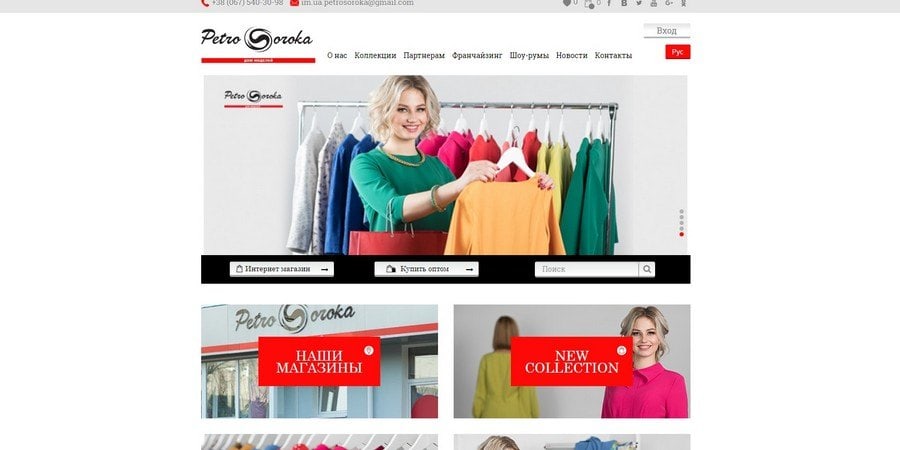 Petro Soroka
Women's fashion clothing wholesale from the fashion house Petro Soroka
Petro Soroka is a manufacturer of fashionable wholesale women's clothing, founded in 2003. The company is located in the city of Sumy.
Petro Soroka women's clothing brand is a combination of elitism and versatility, sophistication and practicality, beauty and comfort. This is impeccable quality, high style and excellent pricing policy. Wholesale women's clothing from the manufacturer Petro Soroka - without restrictions regarding age or external data. The House of Models will help to create a unique style for every woman, while emphasizing her individuality, charm, spiritual wealth of the inner world.
Fashionable things, affordable prices
Beautiful and high-quality clothes, does not mean expensive clothes. We offer you the function of buying in bulk from the manufacturer. This will allow you not to overpay resellers and numerous intermediaries, to have a personal connection with the manufacturer, which will help to develop a special scheme of cooperation and adjust the conditions of subsequent deliveries for the development of partnerships.
Since its foundation, the main direction of its activity has been the development, production and sale of women's clothing wholesale for different consumer tastes. You will be able to find:
* delicate dresses, sundresses and skirts
* classic two-piece suits and pantsuits, jackets
* flowing blouses and beautiful raincoats
The mission of Petro Soroka is to open the world of fashion and beauty for absolutely any woman, regardless of her age, social status, physique.
Terms of purchase of "Petro Soroka"
You can buy the thing you like in a few clicks, you just need to go to the manufacturer's website or contact him by phone. All the necessary contacts of the manufacturer are located just below.
Thank you for trusting the Ukrainian brand Petro Soroka!
☎

+38 067 540-30-98; +38 067 544-06-44

office.petrosoroka@gmail.com

http://petrosoroka.com