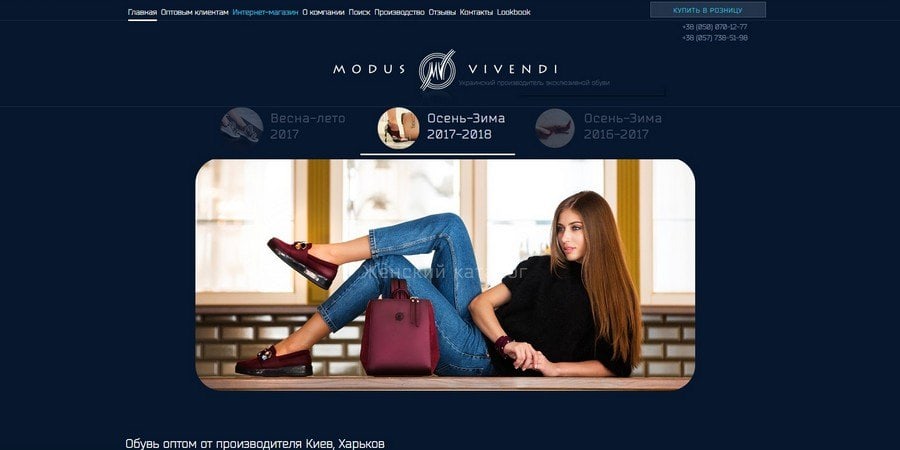 Modus Vivendi
modus-vivendi.com.ua - the official website of the Ukrainian wholesale shoe manufacturer, we guarantee high quality and reasonable price, delivery to anywhere in Ukraine.
Modus Vivendi is an officially registered Ukrainian shoe brand in the cities of Kiev and Kharkiv.
Modus Vivendi is a well-known domestic manufacturer of exclusive, elite model shoes, working for more than twenty years. Each collection is a collection of unique models of leather shoes, both for women and men. We deliver the highest quality goods to stores in Ukraine, near and far abroad - from the district centers of the Kharkiv region to the shopping centers of the capital of Australia.
First-class shoes at an affordable price
 Wholesale purchases will allow you to avoid surcharges and a large number of intermediaries. Direct communication with the manufacturer allows you to develop a special scheme of cooperation and adjust the conditions of subsequent deliveries for the development of partnerships.
We are proud to use only first-class leather and exclusive accessories from the best manufacturers in Europe. A team of competent and professional craftsmen is working on each model. Our shoes will please you not only with beauty, but also with exceptional convenience and durability. Here you can find:
* comfortable sneakers and sneakers
* practical sandals, sandals and ballet flats
* quality shoes, ankle boots and boots
Where to order Modus Vivendi shoes
Detailed photos and descriptions of each shoe model presented in the Modus Vivendi catalog on the manufacturer's website, his contacts can be found below We do not hide the highest quality and unique design of our shoes.  It is important to us that the shoes fit your wallet, so our prices are as affordable as possible. We value our customers very much, so we use only good, proven materials and stylish details.
☎

+38 050 070-12-77

info@modus-vivendi.com.ua

http://modus-vivendi.com.ua/