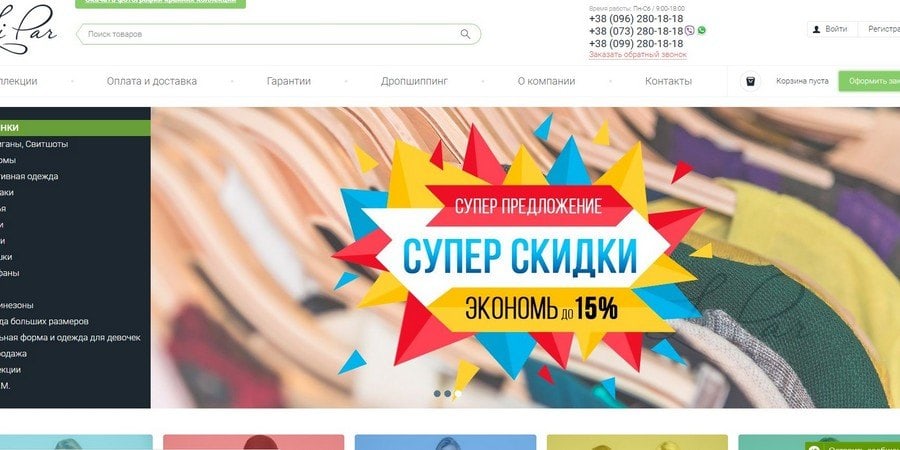 Li Par
Clothing wholesale from the supplier Li Par
Li Par is a manufacturer of fashionable women's clothing wholesale and retail in Ukraine. Our brand is an officially registered Ukrainian trademark. The company has been operating in the Ukrainian market since 2001.
Although the company has been operating not so long ago, it has established supplies of raw materials directly from reliable manufacturers, invited the best designers to develop clothing models, purchased the most modern equipment from Italy and Japan for production, recruited a team of experienced technologists and designers to create comfortable and practical to wear clothes.
TM Li Par - Ukrainian manufacturer of women's clothing at an affordable price
In the online store you can find high-quality clothes for any events at an affordable price. You will save not only money, but also time. After all, now you do not need to go shopping for a long time in search of the required size of a certain model. From now on, all the clothes are available to you in just a few clicks. Another plus is that you can buy women's clothing in bulk.
All the clothes emphasize your dignity and make the image more elegant. You can order:
Stylish outerwear and office-style clothing.
Elegant dresses, beautiful blouses and textured skirts.
Fashionable clothes for every day: tracksuits, sweaters and trousers.
Li Par is not just an online women's clothing store wholesale in Ukraine, but an ideal combination of high-quality clothing, reasonable prices, fast and courteous service, convenient and timely delivery.
Make an order in Li Par
The company offers a wide range of stylish women's clothing. View the catalog? and you can order the goods on the manufacturer's website. The supplier's contact information is listed below.
By choosing Li Par for cooperation, you get a reliable supplier and an honest partner.
☎

+38 073 280-18-18; +38 096 280-18-18

lipar_office@ukr.net

https://lipar.ua