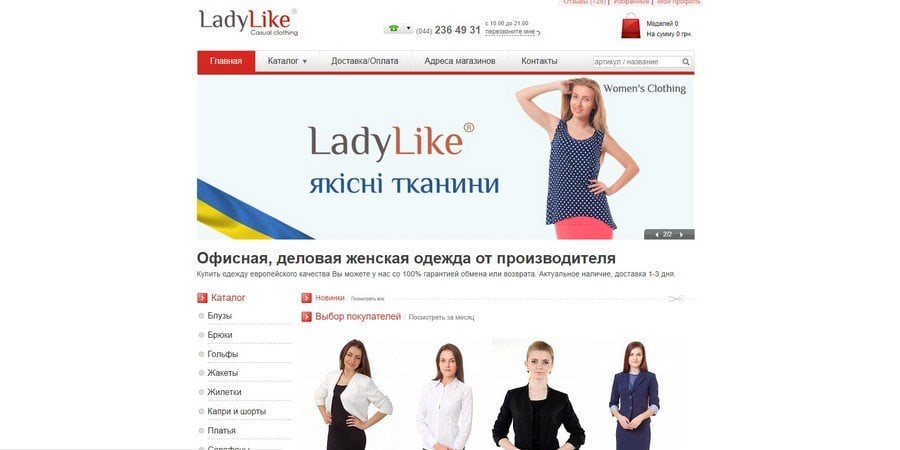 LadyLike
Clothing wholesale wholesale manufacturer Lady Like
LadyLike is a chain of business women's clothing stores. The Lady Like trademark is a Ukrainian brand founded in 2002.
Office clothes for business women for every taste
The sewing company creates collections of business clothes, modern cut and in accordance with fashion trends. In the store you can buy only elegant women's clothing, always of high quality, plus at a price from the manufacturer. All fabrics comply with the standards, high-precision equipment is used for sewing, so that all sizes match the size grid.
We will be glad to cooperate with wholesale buyers. Thanks to the sale directly from the supplier, it is possible to develop an individual scheme of cooperation and adjust the conditions of subsequent deliveries for the development of partnerships.
Spending a lot of time at work, you want not only to look beautiful, but also to feel comfortable. Online women's clothing store produces and sells exactly such models:
Light blouses, elegant blouses, suit trousers;
Slim dresses, comfortable sundresses, skirts;
Stylish vests, original capris and shorts, jackets, as well as various T-shirts
The company has been producing a wide range of products, as well as a large selection of colors and sizes of goods for more than 10 years. 
How to Make a Lady Like Purchase
Clothes can be purchased by ordering on the website, or bought in one of the stores in Kiev, Kharkiv, Odessa. Delivery throughout Ukraine, including Dnepropetrovsk, Kharkiv, Lviv, Odessa and other cities. Sometimes they write: ladylike or ladylike. The manufacturer's website and its contacts can be found below.
Treat yourself to buying women's clothingTM LadyLike, which will give you a lot of pleasant impressions.
☎

+38 044 236-49-31

info@ladylike.com.ua

http://ladylike.com.ua