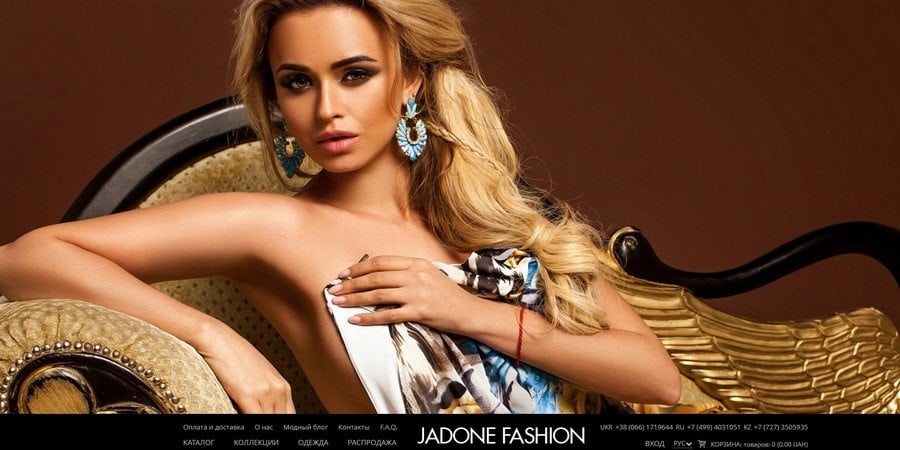 Jadone Fashion
Clothing wholesale from Jadone Fashion
jadone.biz - the website of the Ukrainian online store, where you can find unique and high-quality women's clothing at an affordable price from the manufacturer.
Jadone Fashion is a Ukrainian manufacturer of wholesale women's clothing, we are located in the city of Kharkiv.
The sewing factory is one of the leading companies in the fashion world, which offers refined and fashionable women's clothing from the manufacturer for stylish and confident women. We have been working on the market for more than ten years and perfectly understand the tastes and preferences of our customers. The use of modern technologies for processing materials and fabrics allows our specialists to implement the most daring ideas, unique patterns and shapes.
In the online store Jadone Fashion you will find high-quality and stylish clothes at an affordable price
By buying wholesale in Jadone Fashion, you can save your money. After all, buying in bulk allows you to work directly with the manufacturer and not overpay resellers. Communication with production allows us to develop an individual and special scheme of cooperation, adjust the conditions of subsequent deliveries for the development of strategic partnership. 
We are well aware that for a woman, clothes are a way of self-expression, clothes create a mood, which is why we offer you unique and beautiful clothes:
* feminine dresses, skirts and sundresses.
* beautiful outerwear
* Cozy knitwear and classic trousers 
You will also find accessories for every taste. High-quality fittings and good materials for a reasonable price.
Buy clothes from Jadone Fashion
You can make a purchase and view the full product catalog from the manufacturer. His contacts are provided below.
Jadone Fashion creates a large range of fashionable clothes for modern women, we do not engage in plagiarism. Highly qualified designers, cutters, seamstresses, decor specialists, managers work on the creation of models. Our goal is that everyone can find high-quality and stylish clothes for any purse. 
☎

+38 093 951-02-87; +38 068 798-47-98

jadoneoptua@gmail.com

https://jadone.biz