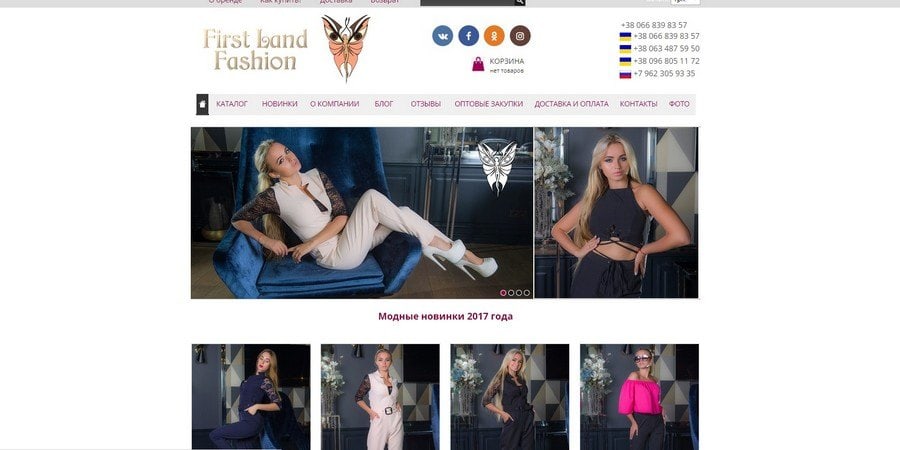 First Land of Fashion
Ukrainian wholesale manufacturer FL Fashion
The First Land of Fashion is a Ukrainian brand of wholesale women's clothing, founded in Kharkiv in 2005.
FLFashion is a successful, active and dynamically developing manufacturer of women's clothing in Ukraine. We have been working for more than ten years, so we are well aware of the tastes and preferences of our customers. In production, we rely on first-class quality, style and the best prices.
The First Land of Fashion - the perfect combination of price and quality
Buying the products of The First Land of Fashion, you can save by buying in bulk. This will allow you to avoid fraud and numerous intermediaries, as well as to have a connection with the manufacturer, which will allow
to develop an individual scheme of cooperation and adjust the conditions of subsequent deliveries for the development of partnerships.
The models of our brand The First Land of Fashion are more designed for a modern, bright, romantic and stylish woman. FLFashion company offers outfits for all occasions. Our collections include women's clothing of very diverse styles:
* romantic dresses, sundresses and feminine skirts
* comfortable trousers, leggings and practical tunics
* flowing blouses and cool sweatshirts
In our clothes, a woman always looks seductive and feminine, she is slightly mysterious and extremely confident in her success.
The perfect combination of price and quality, as well as accessibility and modernity is the business card of the FLF.
Buy clothes from FL Fashion
The pricing policy of our brand is quite democratic, so choosing us for cooperation you get a reliable supplier and an honest partner. You can place an order on the manufacturer's official website, his contacts are provided at the bottom of the page. 
Thank you, then choose The First Land of Fashion!
☎

+38 063 487-59-50; +38 096 805-11-72

firstlandfashion@mail.ru

http://flfashion.com.ua